Most skin care routines focus on taking care of one's face, often leaving out other parts of the body, such as the hands and feet. It is also essential to maintain a routine for hands and feet because hands and feet are often exposed to frequent washing, heat, and sweat, which can dry our hands and our feet calloused. Click here to look at a wide range of non-facial Tony Moly skincare products.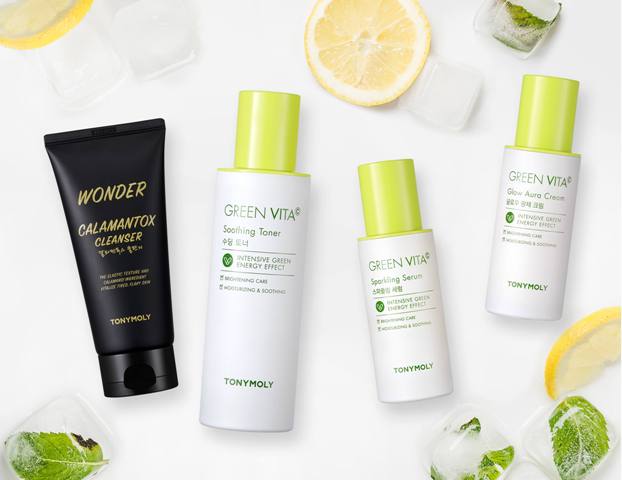 Here's a list of the best items for your hands and feet:
1. Changing You Magic Foot Peeling Shoes
Formulated with Salicylic Acid and various fruit and herb extracts, this peeling foot pack effectively sloughs off calluses and dead skin cells from your feet to reveal softer, smoother soles. Changing You Magic Foot Peeling Shoes comes with a disposable pair of sock-like pouches and a foot peeling solution for a smooth, and mess-free foot treatment.
How to use the product:
Wash your feet thoroughly.
Pour in the peeling solution into each pouch, and dip your feet into them.
Seal the container with the accompanying tie at your ankles.
Soak your feet for 60 to 90 minutes before removing.
Rinse your feet with lukewarm water appropriately.
The peeling process might take place within five days to reveal smoother, callous-free soles.
2. I'm Hand Cream
Enriched with various natural plant oils, herb, and fruit extracts, the I'm Hand Cream Series is an everyday essential for soft, smooth, and nourished hands. It comes in 10 scents and three cream texture types of hydrating your hands and fortifying its moisture barrier: the Essence Type, the Moisture Type, and the Rich Type.
Essence Type – readily absorbed, hydrating, and easily bendable that includes Yuja, Peach, and Berry Mix scents.
Moisture Type – smoothly glides on without the stickiness that includes Acacia, Cherry Blossom, Rose, and Green Tea scents.
Rich Type – deeply hydrates and offers intense nourishment that includes Milk, Shea Butter, and Avocado scents.
The cream types provide varying textures for your hand needs. You may choose the thinner to thicker consistency to suit daily use.
3. Peach Hand Cream
This highly nourishing and moisturizing Tony Moly hand cream is enriched with Peach and Apricot Extracts to make your hands feel instantly soft upon application. Its anti-wrinkle formula delivers nourishment into your skin and smooths out hand wrinkles. It improves your skin's elasticity and gives hands a youthful look with regular use.
The product comes in a delicious fruity scent and an adorable, peach-shaped bottle that makes it cute and irresistible!
4. Wonder One Shot One Kill Foot Peeling Pack
Formulated with Argan Oil, Peppermint Leaf Extract, and Lavender Extract, this highly refreshing foot pack efficiently removes calluses and dead skin off your feet to reveal newer, smoother soles while providing much-needed replenishing hydration to your feet. The cooling Peppermint and Lavender extract also work to revitalize tired feet.
Product usage instructions:
Pour equal amounts of the peeling liquid solution into each sock.
Dip cleansed feet into the pouches.
Soak for 30 minutes.
Remove and wash feet with lukewarm water.
Your soles will start peeling within 4 to 6 days.
5. Scent of the Day Hand Cream
With its adorable, Parisian-style packaging, these perfumed hand creams come in five refreshing scents, making for a pretty moisturizing pick-me-up for your hands. The Scent of the Day Hand Cream quickly absorbs into skin for a super-hydrating, non-sticky finish.
It comes in five scents:
So Sweet – sweet candy fruity scent
So Fresh – fresh citrus lemon scent
So Romantic – fragrant floral
So Cool – refreshing woody scent
So Cozy – airy, cottony warm cozy scent
Each perfumed hand cream moisturizes your hands with its soft, creamy texture and quickly absorbs your skin for a non-sticky finish.
6. Tangerine Whitening Hand Cream
Enriched with Vitamin C, this easily absorbable hand cream keeps your hands soft and smooth, minus the greasy feel. Infused with Citrus Extracts derived from orange, lemon, tangerine, and pomelo, this whitening hand cream banishes rough and dry skin. Its high Vitamin C content also boosts nail regeneration for healthier and stronger nails.
The product is enriched with Arbutin, which works with the Vitamin C and Citrus Extracts for an enhanced whitening effect, keeping your hands fair and smooth. Its cute, tangerine-shaped container brightens up your mood too!
Final Thoughts:
Do not neglect skincare for your hands and feet! Keep them soft and moisturized with Tony Moly skincare products to protect, nourish, and pamper your palms and soles. The brand's non-facial skincare products are infused with botanical extracts and designed to deliver quick results to target skin issues and come in stylish packaging.