Elan is one of the most popular clothing brands of pakistan. Elan present beautiful summer lawn embroidered collection 2023 for modern girls and women. Elan lawn 2023 summer dresses brilliant in shades and high quality. The unstitched shirt by Elan is the ideal mixture of floral and modern features such as Tassel extras and embroidered facings finish this tunic.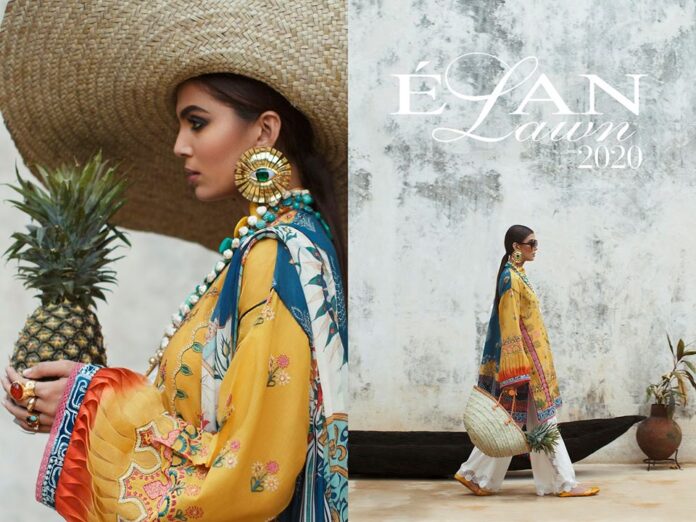 Pakistan women's wear brand Elan keeps to last with additional and much more quality. The brand has develop the Elan Lawn Collection 2023 that contains a few wonderful dresses.
Different range of designs and shades emerged in this Elan Summer lawn dresses 2023 for girls. The collection is unstiched and available in versatile color range and design.
Upliftingly elegant with a touch of boho-luxe, 'Zahara' luxury lawn dresses depicts indigenous folk art using innovative marori and mirror work in a punchy hue of ochre with vibrant accents of turquoise. Layered with a lush dupatta boldly illustrated in teal, aqua and ivory, this will make a striking look no matter where your gypsy heart takes you.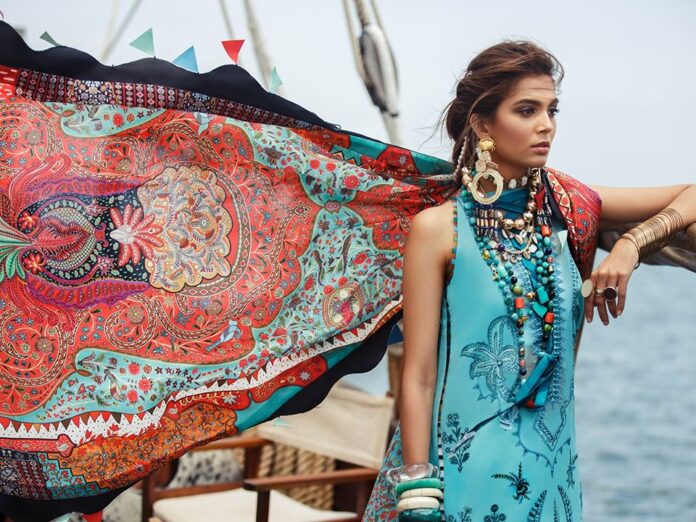 A long relaxed silhouette with drop shoulders featuring lace inserts on the hem and the side panels and a lace finish on the neckline and hem. Paired with a boot cut pant with crochet detail. The dupatta has satin finish with triangular origami caps hanging from the hems.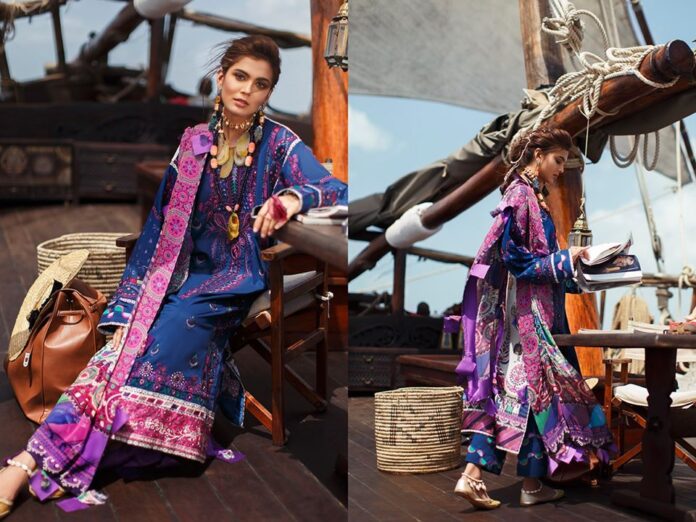 Beautifully composed sunshine florals are delicately embroidered onto a dreamy sky blue fully embroidered canvas in 'Marini' summer lawn collection. Verdant border accents add a touch of luxurious sophistication to this airy and elegant design, with an artistically illustrated lush silk dupatta completing this light and airy ensemble.
A straight streamlined shirt in a longer length features organza knife pleat details on the neckline with lace inserts on the side seam, kingri detail on the narrow sleeves and a keyhole at the back. Used with a relaxed fit ankle length straight pant with lace details. The dupatta has a satin facing with floral satin cutwork detail on the hem.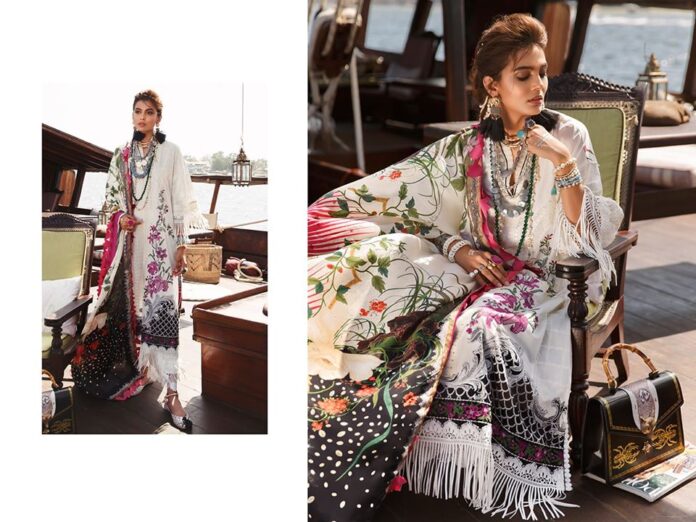 A refreshingly bright aqua hue is overlaid with expertly rendered teal marori and kantha embroideries inspired by traditional kashmiri motifs in 'Zuri' Lawn Dresses. Paired with a luscious silk dupatta with beautiful folk imagery this uplifting ensemble is perfect for the hottest summer days!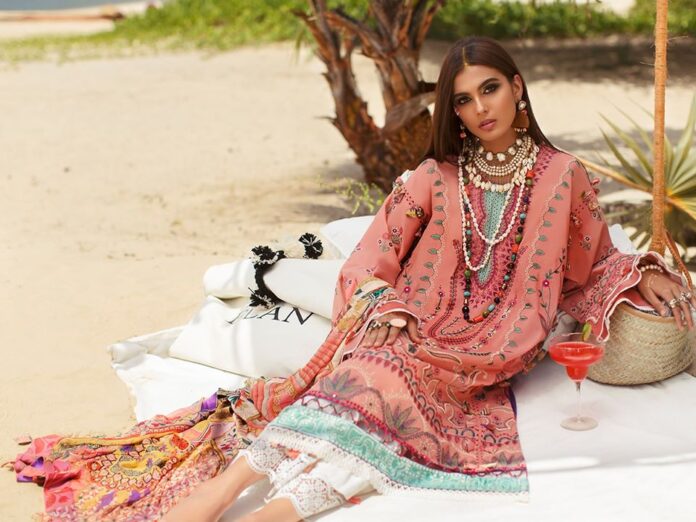 A boxy silhouette with satin loop accents and origami detailing on the neckline and ombre feather detailing on the shirt hem with satin piping on the sleeves and origami detailing on the arm hole. The straight pant has pleated detailing on the hem along with the embroidery patch and the dupatta has multi-coloured satin tassel.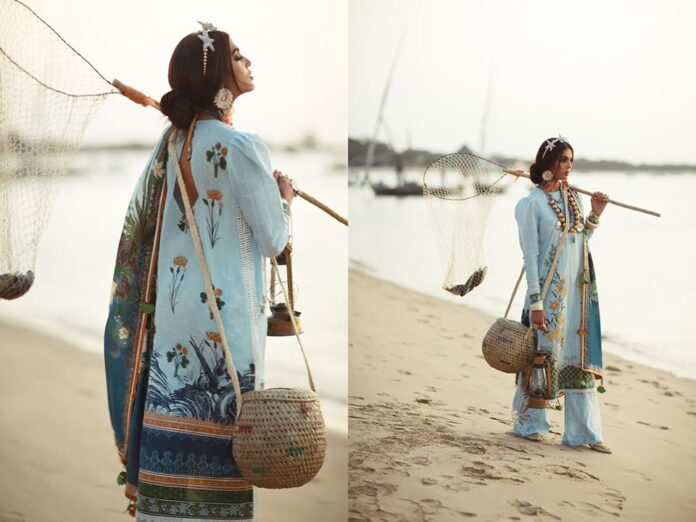 Delicate and textured taankas, in silvery gold tilla and aubergine silk thread, create folk tribal embroideries that contrast wonderfully with the pristine white canvas of 'Usiku' summer lawn collection. Paired with a dupatta that masterfully melds striking flora and quirky animal print in vivid hues, this look makes quite the summer statement.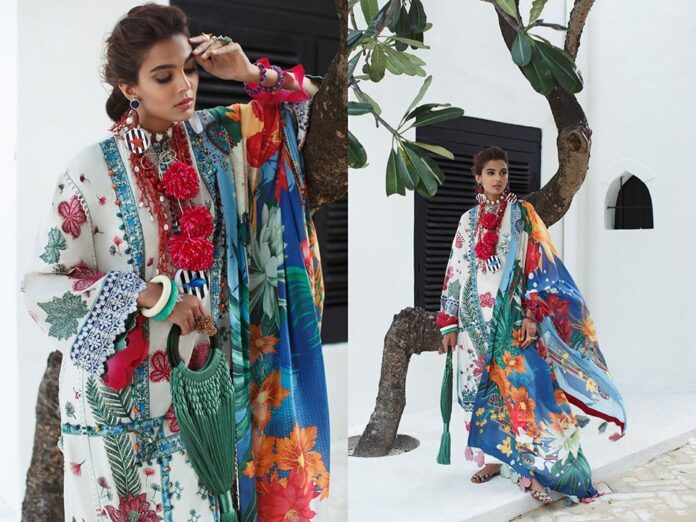 A long boxy silhouette with drop shoulders and side panels with silver crochet details on the panels and armhole. The sleeve and the hem have a satin finish with a fringe lace detail. The dupatta has satin finish with origami tassels on all four corners and the narrow pant features lace inserts at the cuff.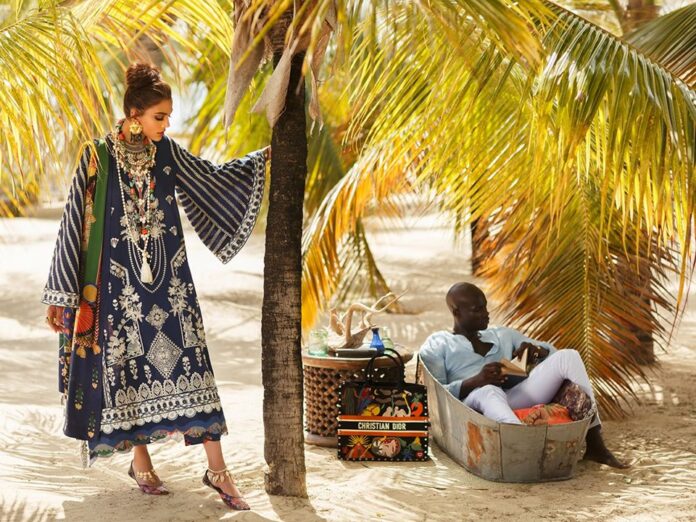 A royal purple canvas is set off with long artsy strokes of ivory kantha stitch embroideries interspersed with delicate mirror work that pay homage to subcontinental illustrations in 'Bahari' summer lawn designs. Paired with a dreamy and diaphonous hand printed silk katan organza dupatta rendered in a soft shade of purple with a deeper shade of lavender floral artwork laid out on top. This bold and sophisticated look is bound to make a statement this summer.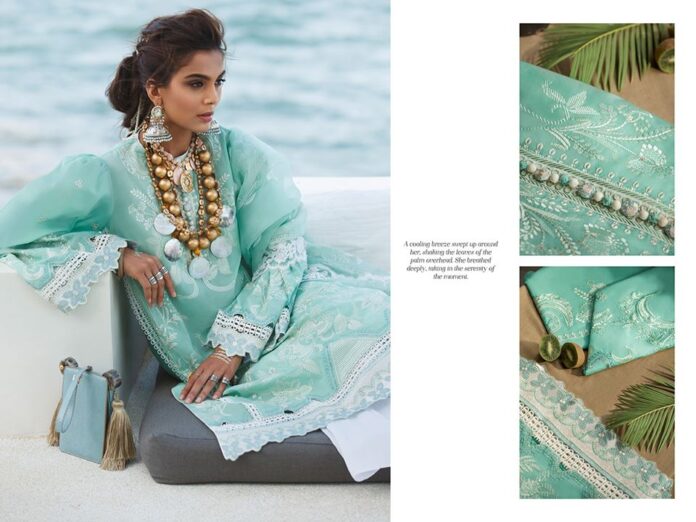 The shirt features a long relaxed silhouette with organza tie on the neckline with a tie and dye pleated trim. There is further organza detailing on the sleeve hem and lace insertion on the shirt hem. The back has a key hole with satin detailing and buttons. Connect with izhaar style pants with lace detailing on the hem and a dupatta with broad lace finish on the hem.
Inspired by the hues of old school shaadi shamayanas, 'Amarli' lawn dresses collection is layered with beautifully detailed ethnic embroideries featuring innovative chatta patti detailing. Paired with a lush chiffon dupatta artistically illustrated with multi hued flora and ornamental patterns, this design merges the traditional and modern in a powerful way!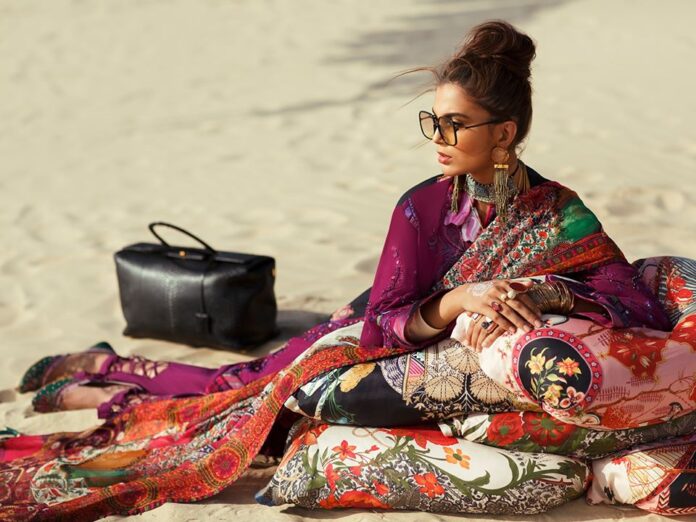 A long and relaxed shirt silhouette with side panels and fabric manipulation detailing on the sides with crochet lace details on the hem, the armhole and sleeve and a keyhole at the back. Use with a straight pant with colorful satin detailing. The dupatta has satin facing with square satin origami hanging tassels.