Winter can be a difficult time to flaunt your sense of fashion. Due to a drop in temperatures, it almost automatically becomes the season of bulky outerwear and chunky fisherman sweaters. That being said, you don't have to be limited to wearing unflattering, shapeless ensembles just because it's cold outside! In fact, we've never been more impressed by the selection of beautiful and impressive dresses perfect for the winter.
Here are some of our Top picks for 2023 winter dresses, for those who may still be looking for a stylish piece or two.
Black Velvet Midi Dress
Not only does velvet have an air of vintage Hollywood glamour to it, it will also keep you warm during the cooler months of the year. The right velvet dress can therefore be just about the perfect garment for the season, and we found a lovely example in thee form of a black velvet midi wrap dress from & Other Stories. Exuding sophistication, yet perfectly comfortable, it can be ideal for celebrating the New Year at a high-end restaurant or for dressing down for a more casual outing around town. By simply pairing the look with chunky tennis shoes and a black baker boy hat, you'll have a trendy, slightly quirky outfit that can be worn at a brunch with girlfriends or even – possibly – a casual day at the office.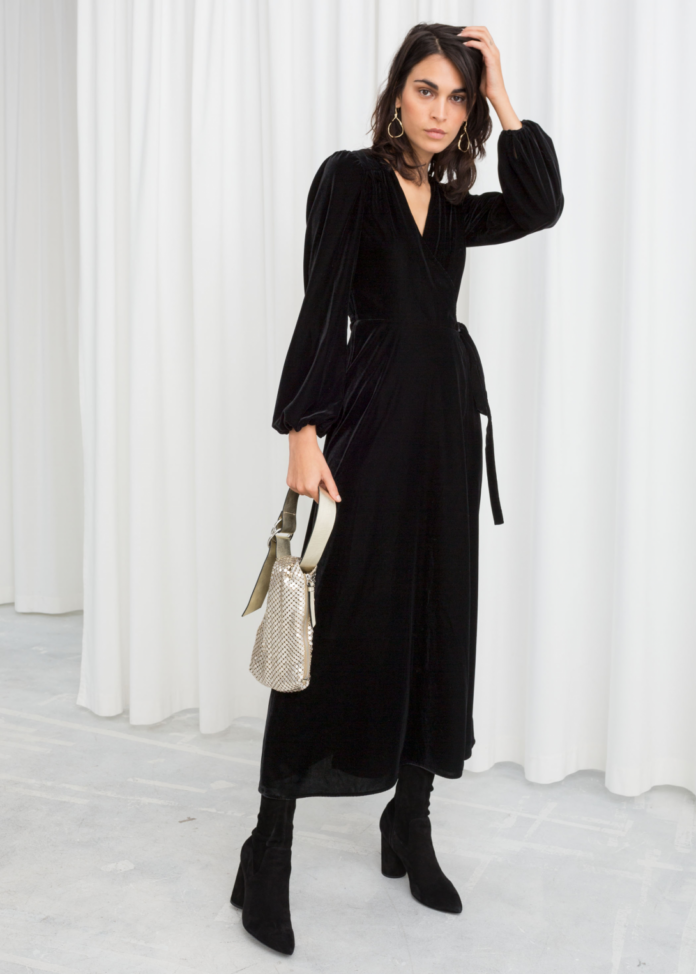 Oversize Turtleneck Dress
During the winter, it can be a struggle to want to change out of your cozy pajamas. Unfortunately, your most comfortable lounge-about clothes are probably not appropriate for public outings – but this does not mean you have to sacrifice warmth or comfort in order to look stylish, even if you want to wear a dress! An oversized ribbed turtleneck dress, in a festive cranberry color, can give you the same sense of comfort and make a statement as well. We found such an item among Woman Within's collection of dresses in various styles and inclusive sizes – several of which would actually suit the season nicely. This brand's dresses are designed specifically to accommodate a little extra when necessary too, which can make them excellent for a winter season when it's perfectly natural not to be at your very slimmest.
Embellished Silver Dress
If you're looking for an option that's elegant but easy to throw on, Cross Stitch's selection of ready-to-wear dresses has some wonderful options. The sleek, sequined silver dress is perhaps the most universally appealing. Its delicate embellishments beautifully juxtapose its relatively casual, A-line cut. To elevate this already-chic garment though, you might put on aa pair of matching trousers and pointed-toe heels. You'll definitely be a shining star at your new function, and given that it can indeed be worn with trousers, you won't be as cold as you might be in some dress ensembles.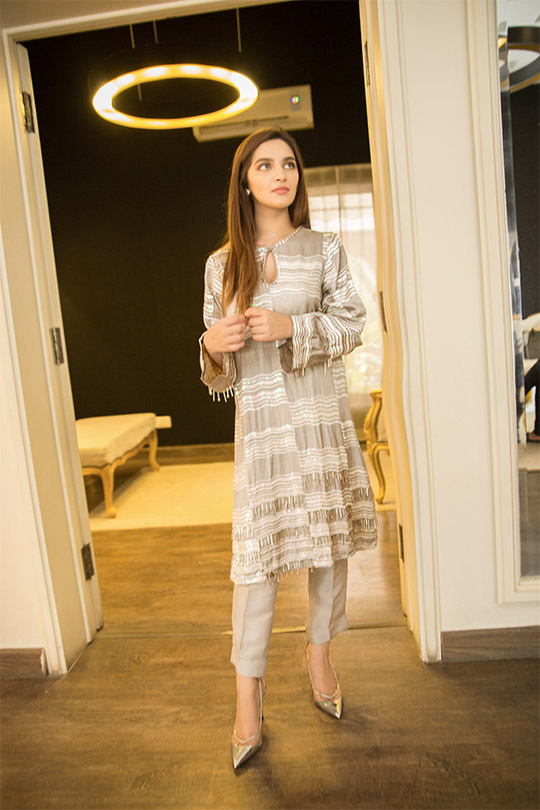 Two-Toned Floral Dress
A floral patterned dresses should be a staple in every woman's wardrobe – especially in the winter, when things can be somewhat dreary and a floral pattern can serve as a lively reminder of the spring! Naturally there are nearly endless options when it comes to this kind of piece, but a two-toned black-and-white midi-dress from Self Portrait we found offers a fresh take on winter florals. The color scheme and micro-print are fun but simplistic, such that the dress goes with virtually anything. Plus, the piece's refined details – specifically a delicate tie on the right shoulder – make it stand out as unique, with perhaps a touch of French-inspired flare.