Eyeliner makes for a professionally polished look, but lots of beginners are intimidated by it. However, there's no need to be since there are plenty of excellent eyeliners that are very well suited to new users. Whether you prefer pencils, liquids, or gels – or even products that borrow the best from each type – you can learn to get a smooth line very easily.
A few tips to keep in mind:
Always use an eye primer or at least the same primer that you use on the rest of your face. This makes it easier to apply the eyeliner, and it also helps the color last longer.
Brace your elbow on your vanity or bathroom counter as you apply the eyeliner. This helps to keep your hand steady.
Should you make a small mistake, clean it up with a cotton swab dipped in oil-free makeup remover. You may also be able to cover it up with concealer.
Read on to learn about the tried-and-tested best eyeliners for beginners!
1. Maybelline New York Curvitude Liner: Angles and Curves

Although liquid eyeliner may feel daunting to beginners, this liquid eyeliner pen is engineered to make it super easy without sacrificing any of the drama that liquid eyeliner is known for. The pen has an angled, curved tip to make it easy to trace around the lash line.
The black color is rich and dark, which makes the lash line look fuller. This Maybelline New York Curvitude Liner won a Good Housekeeping Beauty Breakthrough Award for its intensity and staying power.
Maybelline is one of America's favorite beauty brands so that beginners can use it with confidence. It's also readily available at big-box department stores, and the very reasonable price tag encourages beginners to give it a try. (Plenty of very experienced makeup users love it too!)
2. Bobbi Brown Long-Wear Gel Eyeliner: Old-School Cool
Gel eyeliner packs plenty of pigment for a dramatic, intense look. Most beginners tend to choose pens, and we agree that they are a great choice, but there's something to be said for the original formula. It doesn't come with a brush, which means that you can pick one that feels best in your hand. It also means that you can stop and start your line as many times as you need to, which is very difficult to do with a pencil or paint pen.
The Bobbi Brown Long-Wear Gel Eyeliner goes on dark, but it's easy to add more layers for an even darker effect if that's what you want. In addition, it is waterproof and doesn't smear easily. Bobbi Brown is a cosmetics industry icon, so as you would expect, this little jar does not come inexpensive. However, it is actually a pretty good value since there's plenty of eyeliner in the jar and very little waste.
3. Rimmel Exaggerate Waterproof Eye Definer: Effortless Drama
It's not always easy for beginners to get a dark, dramatic line with an eye pencil, but that's exactly what this Rimmel Exaggerate Waterproof Eye Definer is designed to do. The color is highly pigmented, so it starts dark and rich, and it's also straightforward to apply multiple layers to maximize the effect.
This eyeliner is also waterproof, which means that no matter how much you use it, it will resist humidity, tears, and sweat to look freshly applied all day long. This is a great tool for beginners to get intense color easily. A highly respected cosmetics company makes it so even new users can buy with confidence.
4. Benefit They're Real! Push-up Liner: Gel Hybrid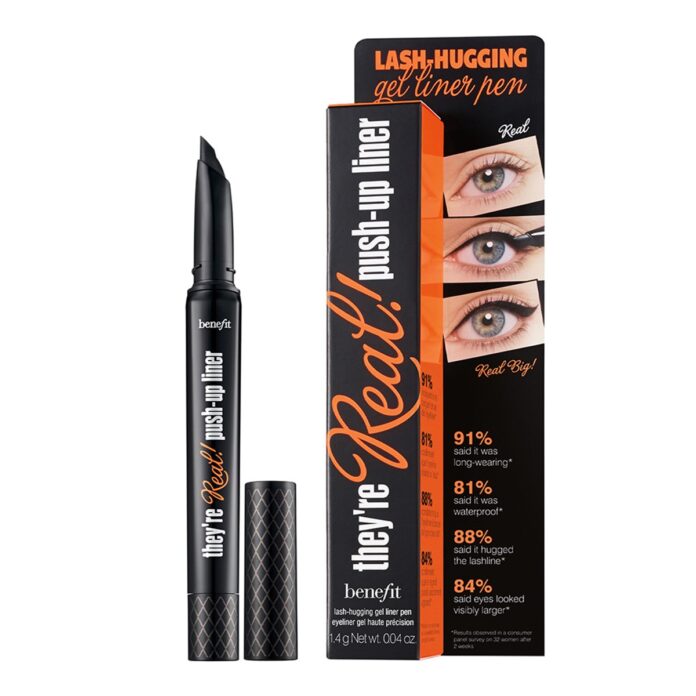 This unique gel/pencil hybrid lets even beginners easily achieve the strong, dark, dramatic line characteristic of gel eyeliners. Gel eyeliner usually requires quite a bit of practice to get right, but this push-up liner makes it super easy.
The pigment is dark and rich, and the gel formula goes on smoothly without smearing. It also has plenty of staying power and won't fade throughout the day. So no matter how new you are, you'll look as if a pro makeup artist did your wings.
The twist-up applicator does have a slight learning curve actually to get the gel out, but once you've mastered that, the pencil itself is very easy to use. The benefit is a big name in the beauty business, and you can get the They're Real! Push-up Liner at most retailers that carry better cosmetic lines.
5. Charlotte Tilbury Rock'n'Kohl Eyeliner Pencil: Soft and Super Easy
This eyeliner pencil is designed not to drag or skip when you trace it across your lash line. The kohl formula melts into your skin almost immediately, which sets the color and helps to prevent smearing. However, smudging it into the lash line and even into a soft wing with a fluffy eyeliner brush is also easy.
The Charlotte Tilbury Rock'n'Kohl Eyeliner Pencil also includes pearl powder, which hydrates sensitive eyelid skin, stimulates collagen production, and helps the pigment adhere. In addition, it is waterproof, and you can expect it to last up to 14 hours.
This high-end eyeliner pencil is very suitable for beginners since it is so soft and easy to use. The ingredient list is also impressive, which is not surprising for a cosmetics company of this caliber. You can find it at better department stores and cosmetics retailers.
6. Kiki Precise Liquid Eyeliner Pen Set: User-Friendly Liquid Eyeliner
Liquid eyeliner is loved for its dramatic look, but the application usually gets less love. It takes a lot of practice to apply liquid eyeliner well, and it's a fairly unforgiving process. This liquid eyeliner pen is designed to be different. It resembles a chunky felt-tipped marker, so anyone used to doodling can be successful with this set.
The eyeliner is effortless to apply. It goes on smoothly, and the pen applicator provides precise control. In addition, the liquid dries quickly, which reduces the chances of smudging or bleeding. It also wears very well.
7. L'Oreal Paris Infallible Never Fail Eyeliner: All-in-One Tool
"Never fail" is exactly what beginners want from an eyeliner, and that's what they'll be getting with this pencil liner. The eyeliner is rich and creamy, so it goes on easily, and it dries quickly to reduce the chances of accidentally smearing the line. It is formulated to last all day and most of the night without fading, too.
What makes this eyeliner such a great choice for beginners, though, is the built-in sharpener and smudger on the other end of the pencil. This lets users create softly smudged looks, clean up minor mistakes, and keep the pencil looking and feeling new every time.
L'Oreal is a trusted brand, and it's also inexpensive and easy to find at mass-market retailers. This makes it an excellent choice for eyeliner beginners, as they know that they are getting a great product at a great price.
8. NYX Professional Makeup Epic Ink Vegan Waterproof Liquid Eyeliner: Versatile and Vegan
This nifty liquid eyeliner pen is a good choice for beginners because the liquid pigment goes on smoothly and easily. In addition, the unique applicator brush gives you control of the thickness of the line. This means that you can use this pen for a fine line and a natural look or a thick line and a dramatic effect.
This NYX Professional Makeup Epic Ink Vegan Waterproof Liquid Eyeliner Pen is made without any animal products whatsoever, and it is certified to be cruelty-free. As a result, everyone can use it with a clear conscience. It's also very budget-friendly and easy to find at most mass-market cosmetics retailers.
9. Revlon ColorStay Eyeliner with SoftFlex: Flexible Eye Pencil
Eyeliner pencils seem as if they should be easy to use, and in some ways, they are, but the stiff "points" sometimes make it hard to trace around the lash line. Pencils can also drag or skip across the skin, making the liner go on unevenly; plus, it just doesn't feel good on sensitive skin!
This Revlon ColorStay Eyeliner is made with proprietary SoftFlex Comfort Technology to ensure that the tip of this eyeliner stays creamy and smooth. This helps it go on smoothly and easily. It also stays in place for the whole day – up to 16 hours!
Revlon makes it, so it's easy to find in drugstores and big-box stores, and the price point is also great for beginners. In addition, it's easy to find and easy to buy, which makes it a very nice choice for those who are new to eyeliner and want to experiment.
10. Milani Cosmetics Eye Tech Perfection Liquid Eyeliner: Ergonomic Contours
This uniquely shaped liquid eyeliner is a great choice for beginners because it fits perfectly into the palm (almost like a kid's water pistol), making it easy to draw the perfect line along your lash line. The pigment is dark and rich, and the liquid formula glides on easily. It resists fading and will stay in place all day and most of the night too!
The Milani Cosmetics Eye Tech Perfection Liquid Eyeliner comes from a well-established cosmetics house. You can buy it at retailers that carry better beauty supplies, including some department stores. It's not quite a budget buy, but it's well worth the price for the thoughtfully designed applicator and great dark line you get.