Are you looking to step up your fashion game, but don't know where to start? Well, worry no more! Looking fit and stylish with the right clothing choices can be easy and satisfying.
In this blog post, we'll explore different types of clothing that will give any outfit an added boost and make sure you look your best every time. With a combination of both fashion-forward items as well as classic pieces that stand the test of time, you're sure to find something for your own wardrobe. With our tips, looking fashionable has never been simpler!
Wear Your Confidence First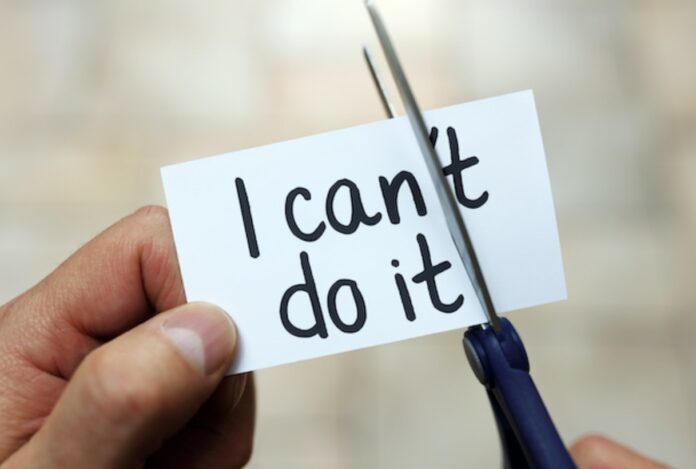 Let's face it, we all have days where we feel like we don't look our best. But that's why it's so important to wear your confidence first – no matter what you're wearing or how you may look on the outside.
If you feel stressed or nervous while wearing your fashion and before going outside, or feeling anxious you can try calming reishi mushroom gummies. It will definitely make you feel calm and composed.
Putting yourself out there with confidence makes you look and feel better than any outfit ever could. So, next time you're getting dressed and having a bad day, remember that wearing your confidence is always the most attractive fashion choice!
Find the Right Fit
Discovering the perfect fit for your body type can be a challenge, but it doesn't have to be! Knowing which clothing items flatter your shape will help you become ever more confident in your style and feel stylish. Try taking yourself shopping, but bring a friend whose opinion you trust. Your friend can provide much-needed objectivity when making decisions about what looks best on you.
Take care to note which items make you feel amazing so that you know exactly what types of clothing to look for in the future. With some practice, finding the right fit will soon become second nature.
Accessorize to Divert Attention From Problem Areas
Accessorizing is a great way to draw attention away from certain areas of the body you want to camouflage. Accessories such as bold statement pieces or eye-catching jewelry can help draw the eye from any trouble spots. You don't have to be over the top, either – adding subtle yet purposeful items like bright scarves and interesting earrings can help you make a style statement while also playing up your favorite features!
Even if you desire to stay more on the modest side, there are still patterns, materials, and shapes that could present an effective distraction around parts of your body you'd rather not emphasize.
Feeling your best in your own skin should always come first but with a few well-thought-out accessories, fashioning something beautiful has never been easier!
Choose Flattering Silhouettes
Certain silhouettes can be more flattering than others, so it's important to choose clothes that accentuate your best features. For example, if you have a small waist, look for dresses or tops that cinch at the waist. If you have toned arms, choose sleeveless tops or dresses to show them off.
Invest in Shapewear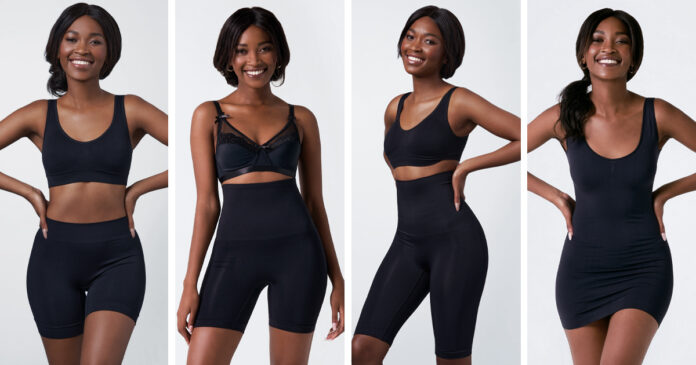 Shapewear can be a game-changer when it comes to looking fit. It can smooth out lumps and bumps and create a more streamlined silhouette. Look for shapewear that targets your problem areas, such as your stomach, thighs, or hips.
Opt For Darker Colors
Darker colors, such as black, navy, and dark grey, can be slimming and create a more toned appearance. Plus, they're easy to mix and match with other pieces in your wardrobe. If you're not a fan of all-black outfits, try pairing a dark top with lighter bottoms for a more balanced look.
Add Layers
Layering can be a great way to create a more structured and toned appearance. Try layering a fitted blazer over a blouse or wearing a cardigan over a fitted dress. This will create a more streamlined silhouette and give the illusion of a more toned body.
Invest in Comfortable Shoes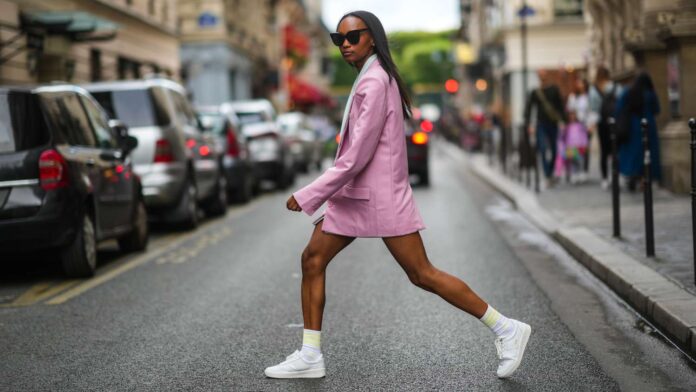 Investing in a good pair of shoes can seem daunting at times, due to the hefty price tag. Despite the initial shock, it's important to remember that with more comfortable shoes comes more confidence and comfort. Not only will this improved feeling take your wardrobe to a whole new level, but a good pair of shoes will also go a long way in making you look more fashionable. Whether you're looking for flats or sneakers, the market today is filled with quality options that offer both aesthetic appeals as well as comfy support – making them a sound investment for anyone looking to step up their style game!
Incorporate Pieces That Make You Look Taller
Want to look taller in your wardrobe? Try incorporating pieces such as high-waist pants and low-heeled booties that can help elongate your figure. Vertical stripes are also a great idea, making you appear taller and slimmer! Make sure you are combining colors that flatter you too – this will make the look even more pulled together.
You don't have to break the bank either; plenty of affordable fashion stores offer pieces that will help you get the right look. So what are you waiting for? Get experimenting with those outfits and watch yourself look longer and leaner in no time!
Avoid Overly Revealing Pieces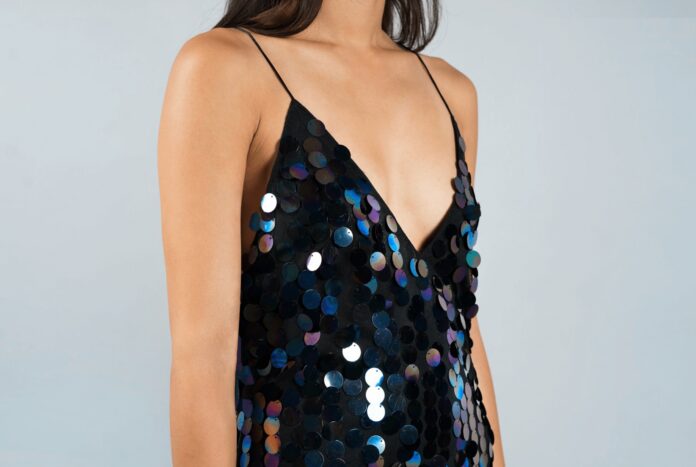 Keeping it sexy doesn't have to mean an over-exposure of skin. Instead, try pieces that make you feel good but still let a little something is left to the imagination. Look for tight-fitting clothing or cuts that introduce a hint of a silhouette or look for a fabric that shows just enough skin without giving away the goods.
Keep it exciting in the details like ruffles, patterns, and unexpected cuts. Remember that when it comes to style, confidence is always sexy so make sure your clothes fit right and give you a boost of positive energy – now that's what really sparks attraction!
Choose Fabrics Wisely
Shopping for the perfect fabric can be intimidating, but luckily it doesn't have to be a daunting task. When you're looking for just the right textile for your project, it's important to take into consideration its attributes; in particular, whether or not it is wrinkle-resistant and lightweight.
Choosing such fabrics can save time and energy as they won't require as much maintenance. A lightweight, wrinkle-resistant fabric can often feel softer than a heavier one too! So don't overlook this important step during your fabric selection process—researching fabrics with these helpful qualities can make all the difference when working on a special project.
Conclusion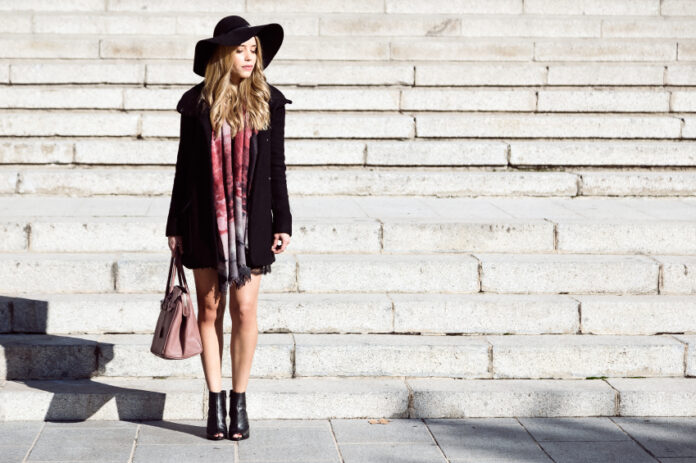 In conclusion, dressing to look fit and stylish doesn't have to be complicated. By finding the right fit, choosing flattering silhouettes, investing in shapewear, and incorporating darker colors and layers, you can create a more streamlined and toned appearance. Adding accessories to divert attention from problem areas, investing in comfortable shoes, incorporating pieces that make you look taller, and choosing fabrics wisely can also help take your fashion game to the next level. And remember, confidence is always the key to looking and feeling your best!