Bridesmaids are one of the most important people you will have at your side when having the wedding of your dreams. Being one is a privilege only the closest of friends deserve to get. Therefore, planning their looks on your big day is very important. Most brides like to dedicate the same amount of time to choose their dresses, as they do for their wedding dress. Because after all, these two have to complement each other.
Since their role is so important, one needs to start dress hunting on time.
What does "on time" actually mean?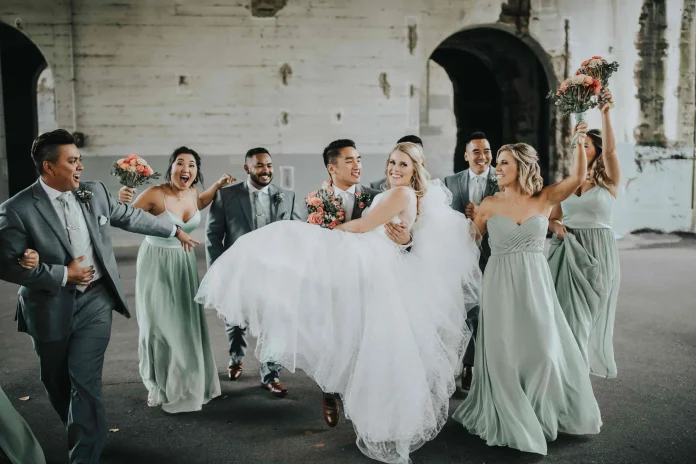 A bride should have an idea about what kind of wedding dress she wants to wear at least nine months before the big day. Deciding on that will leave enough time to decide what kind of bridesmaid dresses will complement hers.
So, hunting for the bridesmaid's dresses is recommended to start at least eight months before. At times it is easier to find a wedding dress because bridesmaids are a group of girls, often very different when it comes to physique. That is why most brides opt for tailoring these dresses.
It would be ideal if all the bridesmaids were the same age, height, and physique, but often this is not the case, so it is difficult to find attractive dresses in which the bridesmaids, each in their own way, will achieve the desired expression.
According to AWBridal if you are a bride who wants or insists on only one dress cut and color for all bridesmaids, stylists recommend a universal A-line dress cut that is narrow at the waist and flares out towards the hem.
Such a dress represents the best compromise for different body types, but they must certainly be cut very carefully so that they do not awkwardly "pull" on the hips. When it comes to the length of A-line dresses, it is best if they are floor-length, because that way everyone's figure will look good.
However, trends say otherwise and it is no longer mandatory that all bridesmaids have to wear the same dress. Now it is common to see bridesmaids in dresses of different cuts in the same or similar colors so as not to get too colorful.
Which dresses suit a certain body type best?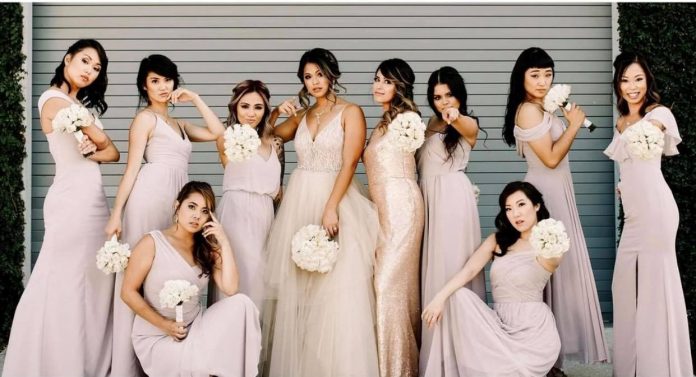 Not-so-tall bridesmaids can wear a variety of styles, including A-line dresses, body-hugging dresses, and thigh-high or knee-length dresses as long as they are waisted. Stylists recommend that they wear open, sexy necklines with or without straps. If they wear sleeves, they should be 3/4 length to make the arms look longer.
Those whose figures are without accented curves, but are thin, look great in any variation. Mermaid dresses are made for straight slimmer figures.
Plunging necklines look amazing with an A-line skirt, and this type of body shape also looks very nice in a dress that is cut with a top that reveals the back or a smaller front part of the stomach, which is followed by different lower cuts of the dress, whether they are narrow and follow the figure to the knees or to the floor, whether are airily wide and of different lengths. The sleeves on the dress can be of different shapes or the dress can be sleeveless.
Tall, curvy women, especially with larger breasts, should choose dresses that emphasize the areas where they want to attract attention, but at the same time cover those parts of the body that you don't want to draw attention to.
A waisted fabric that does not cling to the body is a good choice, and dresses can also have strategically embroidered embellishments. As in the previous cases, the A-line is the best choice for fuller figures with a wider waist.
Fabrics for Dresses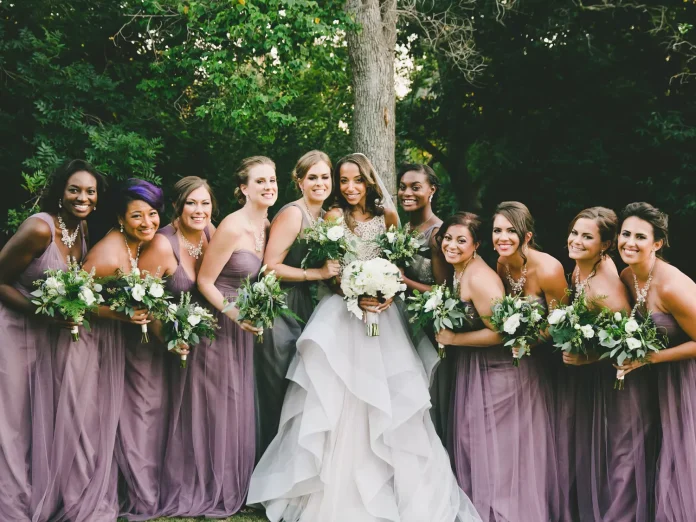 Most bridesmaid dresses are primarily made of taffeta, chiffon, or satin. Taffeta is one of the most structured materials, the warmest to wear, and is usually chosen for weddings on colder days.
More airy chiffon, unlike all other materials, can be worn in any season, but does not retain heat and is a popular choice in late spring or summer.
Satin is the classic and most formal material. It can be very "unyielding" in photos, so it is recommended that the dress be impeccably cut and sewn from this material.
Other fabrics that contribute to the structure and style of a bridesmaid's dress can be beautiful silk organza and silk tulle (a "gauzy" material). Embroidery and lace can add to, and sometimes hide, the advantages or disadvantages of a figure. Of course, careful design elements such as pleats can also make a dress look gorgeous.
Once all of this is covered, it is time to choose the color…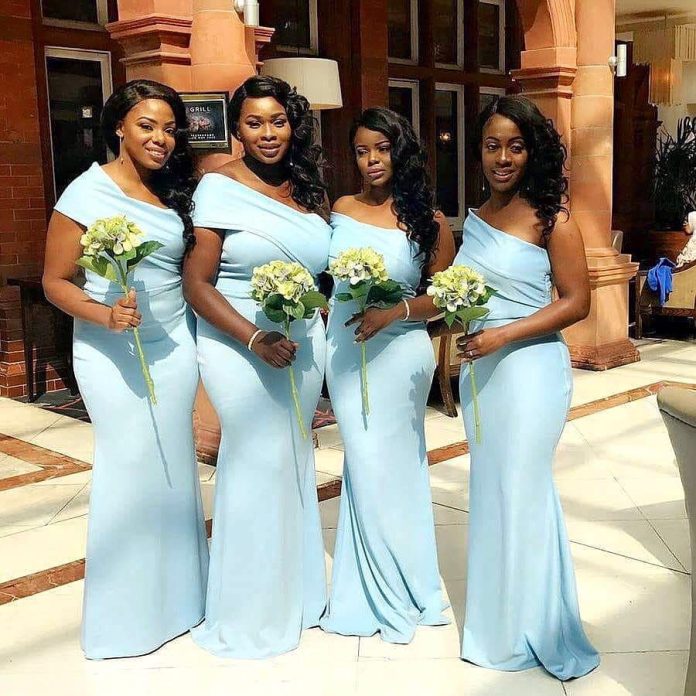 The most universal colors are monochromatic and deep like dark blue, dark red, black, and coral. In the case of choosing lighter shades, the best colors are mint green and blush champagne tones, ivory and pale purple tones that look great on most people.
You can choose one basic color and offer your girls shades of that color in which they will feel best. Six bridesmaids in colors that complement the base color and dress styles that make them beautiful and self-aware will definitely make your wedding day a fairy-tale and a cheerful event.
Considering all the work choosing a bridesmaids dress requires, no wonder the hunt needs to start so soon. But choosing a dress is only a part of the work. They also need to be synchronized when it comes to hair and makeup. Deciding on this takes less time, though. However, setting up the appointment for all of this needs to be done on time, since a group of girls who need both hair and make-up done, requires time.
All in all, the steps to organize a wedding are easier to take when you have someone to lean on. Surround yourself with people who will help, understand and support you, and everything will be done on time, with less stress.