Necklaces have been a staple of both men's and women's fashion for thousands of years, and they show no signs of stopping. They are some of the most iconic and fashionable accessories you can wear, regardless of gender. These are some of the most appealing necklace styles you can wear in 2023.
Rope Chain Necklaces
Rope chain necklaces are not only aesthetically pleasing but very minimalistic in design. They have a beautiful twisted pattern, which has an elegant and robust appearance. Rope chain necklaces are thin, sturdy, and easily complement any pendant.
If you invest in a good rope chain necklace, you'll feel no need to replace your jewelry. These chains are built to last while keeping a stylish look in the process. Both men and women look great wearing rope chain necklaces so that anyone can opt for this style.
Men's Cross Necklaces
The cross necklace is one of the most classic, iconic, and recognizable forms of jewelry out there. There are many variations of the cross design so that it can fit your personal preference. This design is appreciated by billions, whether it's a Celtic cross, Coptic cross, Orthodox cross, or any other variety.
Cross designs range from intricate and detailed to very simple, making them a versatile symbol. You can check out this article to learn more about men's cross necklaces. Overall, this is a timeless type of necklace that will continue to be worn around the world.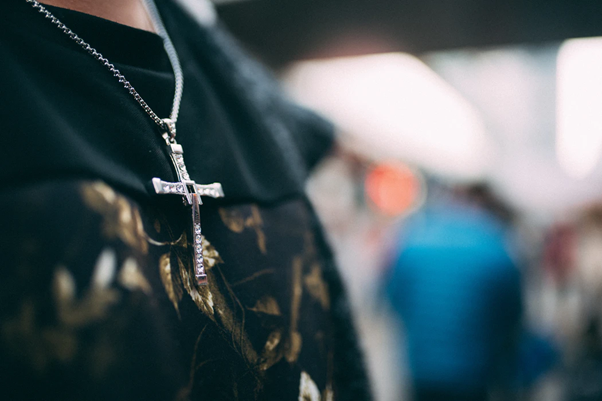 Christian Necklaces and Pendants
Women have worn jewelry to enhance their beauty for centuries, just like men. However, jewelry rarely goes beyond being an accessory to represent a person's uniqueness. Only a small number of patterns convey the wearer's hope, belief, and faith. Christian necklaces are one of the fashion's ornaments. The cross is a prominent symbol of Christianity today and an essential part of the Christian aesthetic. Christian necklaces convey a powerful, passionate, and enduring message.
Link Necklaces
Link necklaces will never go out of style, and there are many different types to choose from. You can wear Cuban links, oval links, Venetian links, and much more, depending on your personal taste. The size of link necklaces varies a lot, as they can appear elegant and fine or very thick.
You can read this article to learn more about the best gold chain-link necklaces.
Link necklaces can be found anywhere, and they are appreciated in many cultures. Men and women can easily wear these necklaces. Make sure to choose the style that works for you, giving off the impression you want to have.
Cable Chain Necklaces
Cable chain necklaces are simplistic, reliable, and easy to find. They have a classic appearance, which draws more attention to the pendant you are wearing. They're also worn without a pendant, standing out as a beautiful accessory on their own.
A small cable chain necklace complements a lot of outfits. Because of their simple design, they work well with any style of clothing.
Final Thoughts
Overall, there are many types of necklaces you can choose to wear, and many that'll last for years to come. If you want to learn more about necklace styles, you can read this article on the top necklace trends. When it comes to men's and women's fashion, the necklace will always be one of the most ever-present accessories.