Traditionally, bridesmaids usually wear the same dresses. However, in recent periods we can notice many innovations when it comes to weddings all around the world. One of them refers to the mismatched bridesmaid dresses. This trend became very popular because it provides a lot of space for improvising and it looks like this trendy style is not going anywhere any time soon. A mixed bridesmaid outfit is working literally for any type of wedding, even the ones that are traditional, formal, and casual.
This type of wedding outfit brings many advantages, however, one of the crucial ones is that it allows every woman to dress according to her personal style as well as body type. In that way, all of them are going to feel beautiful in their own skin, without feeling forced to wear something that they do not like or that does not suit them. If you are ready to try this trendy style for your own wedding and you are not really sure where to start, we got you covered. We prepared the article that will help you coordinate bridesmaid dresses perfectly by inspiring you with some recommendations.
Looking for an elegant budget-friendly bridesmaid dress?
Visit this site 
Cicinia
for affordable bridesmaid dresses. They make your wedding more memorable with gorgeous, fashionable, and high-quality dresses.
Get your inspiration on how you can match Bridesmaid Dresses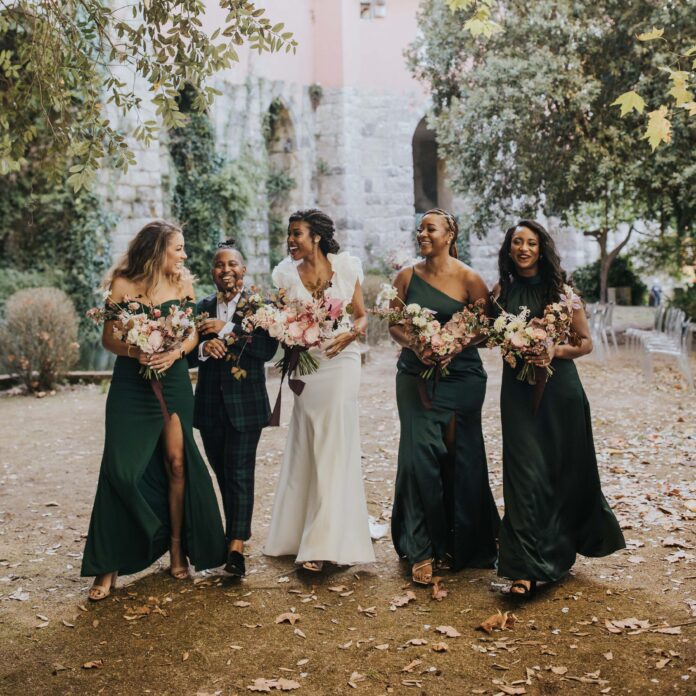 If you decide for mixing and matching bridesmaid dresses, you are one step ahead of having a very unique wedding event. Every little detail of your wedding is important, as well as how the bridesmaid is going to look around you. You want to create a fairytale picture of you and your girls. We have good news for you since your options for mismatched bridesmaid dresses are unlimited.
Below, we prepared some of the options that you can consider and see which option is going to suit your personal style and theme of the wedding the most. Choosing a perfect palette of colors that your girls are going to wear can grab the attention of the guests. However, it is also important to get your bridesmaid's approval as well. In the end, they are the ones that are going to wear the dresses!
Bridesmaids' Dresses of Different Styles, yet Same Color
The first option you have in the terms of mismatched bridesmaid outfit looks is to choose different styles of dress that are in the same color. In that way, all bridesmaids can choose the type of dress that will fit perfectly their body type. This is generally the easier and more effective way to achieve a mismatched bridesmaid outfit. All of the girls around you are going to love the fact that they can choose whatever suit their personal preferences.
In that way, they are going to feel way more comfortable and confident at your wedding. All of theirs personality can shine and stand out through the type of dress they choose. When it comes to the color, you have plenty of options. For instance, you can choose the color that suits the wedding theme and vision the most, or you can ask your bridesmaid what would they like to wear the most. However, make sure that all dress colors are the same to achieve the exact match. You can do that by choosing the same designer.
Bridesmaids' Dresses of Same Style, yet with Different Colors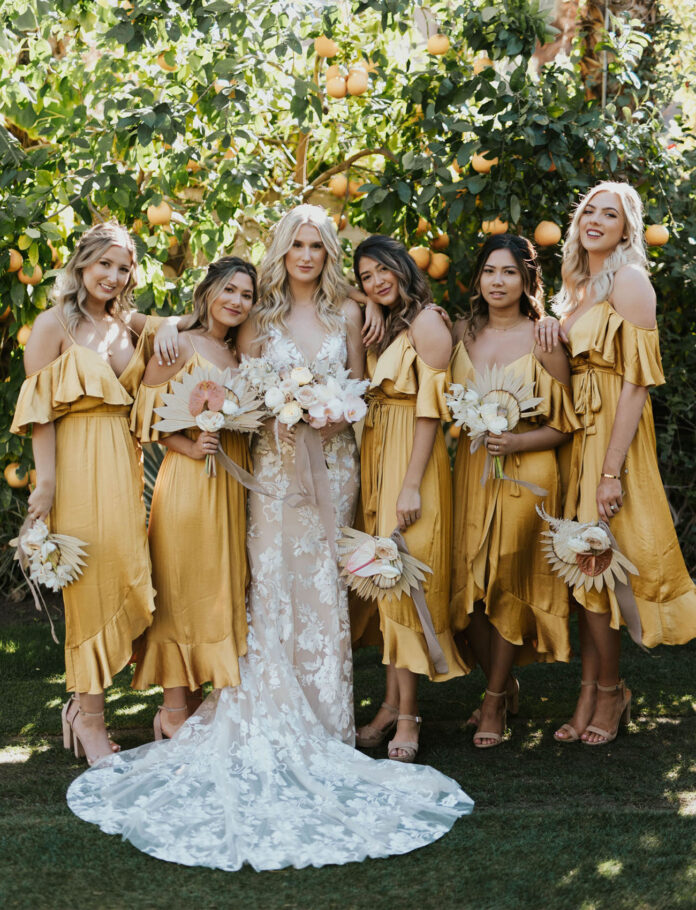 Why do not you choose the reverse option and go with the dresses that are completely the same, yet they are in a different color? If you are the type of person that does not like anything formal and you want to spice thinhttps://www.marthastewart.com/7933433/choosing-wedding-color-palettegs up, you should decide on this option when it comes to choosing mismatched bridesmaid dresses. This approach is a lot more fun and at the same time, it is going to look equally cohesive. The only thing you need to do is to get around with your girls and discuss the dress style that will suit all of them, so they can feel comfortable at the wedding. Now, when you need to choose the colors, do not be afraid that you can ruin the overall appearance and that your wedding will lose its glow and it won't look glamorous if you choose the wrong colors.
You can go with the most effective option which refers to selecting the undertones that are dominant in the wedding palette. For instance, if you choose a blue color to be the most highlighted one at your wedding, you should choose different colors of blue for bridesmaid dresses. Different blue shades around your white dress are going to look stunning in pictures. In case you are preferring a more diverse color range, you can choose dust pastels or anything else that you like.
Bridesmaids' Dresses of Different Colors and Different Styles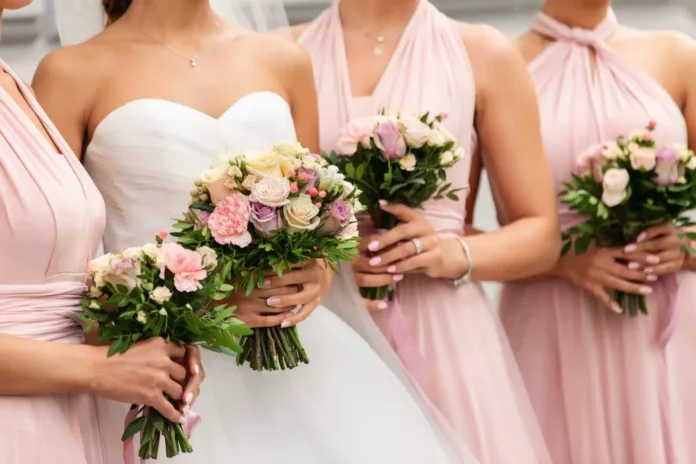 If are organizing one completely daring and unique wedding, it would be very intimidating to select bridesmaid dresses that do not match in any aspect. In fact, this option is one of the greatest ones because it is going to allow all of your girls to be completely free when it comes to the dress they are going to wear on your big day. However, the key to achieving the perfect appearance of this trend and making it very attractive is choosing dresses that feature similar elements.
The sky is your limit, so choose dresses that are completely different in patterns, textures, and lengths. However, you are going to ensure that dresses is complementing one another and that their final look follows your wedding theme. Therefore, go on a coffee with your girls and encourage all of them to share their ideas, so you can create a perfect guideline and collaboration in order to achieve a wow-effect on your big day.
Real Wedding Inspiration of Mismatched Bridesmaid Dresses
A little inspiration from AWBridal can add a spark to your creativity and ideas that you and your girls already have. As you see your options when it comes to mismatched bridesmaid dresses at your wedding are unlimited. Therefore, be free to choose light blue, yellow, or some warm and tropical tones for the dresses in different, unique styles and designs so your wedding can truly take everyone's breath away.