Different factors need to be considered before settling for an option when getting stylish sunglasses. For most people, the type of frame and shape of the face greatly affect the choice of sunglasses.
However, not many people choose to consider the type of sunglasses that'll match their everyday fashion style. And although not many people pay close attention to matching their eyewear with their outfits, sunglasses have continued to evolve into vital accessories.
Thankfully, sunglasses have grown into beautifying accessories and aren't as broad and bland anymore. You can easily find many shapes and sizes by visiting this site, valleyeyewear.com.au, where square sunglasses have been a favorite amongst many people.
If you realize that square sunglasses complement your face shape, then finding outfits that work well with this shape will boost your overall aesthetic. So, discussed in this article are some stylish outfits that go well with square sunglasses.
1. Evening Attires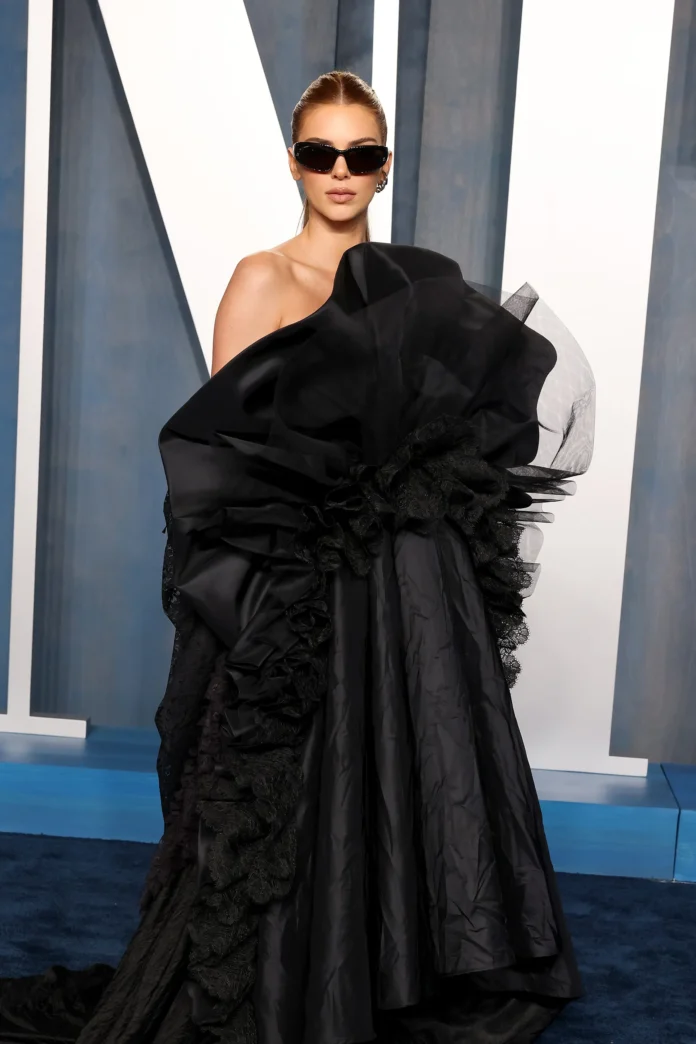 Pulling off evening attires can be challenging, and throwing in glasses can make it harder. For most men, it may be easier to match a square sunglass with a suit as it may create a concrete look. However, for most women finding a way of incorporating glasses with a fancy look may be challenging.
And you can't blame most ladies as makeup is an instrumental part of a look, and some of them may think that it'll hide it all. However, square sunglasses can work well with bold eye makeup that draws attention to your eyes, especially when they are clear.
So, to achieve a sophisticated look, pairing the outfit with a square sunglass is the way to go. This frame may be the perfect way to coordinate a look, making it fit in seamlessly with the preferred aesthetic.
2. Casual Outfits
The result needs to be effortless or chic for casual outfits, and finding the right frame is vital. Square sunglasses are better suited for casual outfits as they are versatile enough to go with different options.
When it comes to matching casual outfits, it's essential to avoid clashing colors and opt for white, black, silver, and grey frames. The advantage of square frames is that they can easily be paired with different casual wear styles to form a whole new aesthetic.
One great way of pairing square sunglasses is by matching a t-shirt, jeans, and leather jacket for that retro aesthetic. Additionally, casual outfits go well with square sunglasses as they usually are available in neutral colors.
3. Street Style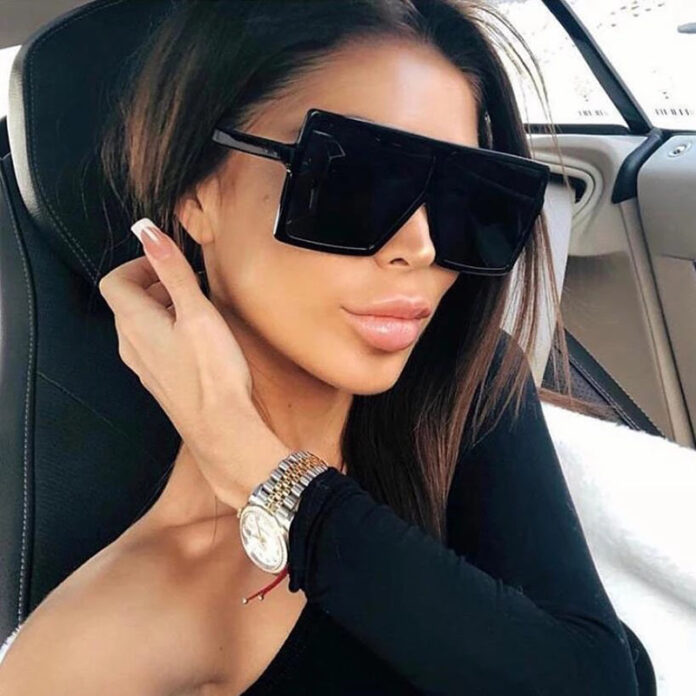 Street style may vary from one person to another, with most artists coming up with different interpretations. This style mostly consists of loose-flowing dresses and tight-fitted jeans interpreted into new styles.
And due to the versatility that comes with street style, square sunglasses will be the perfect fit. This frame will be great as it can pair well with all the emerging styles. Avoid shying away from bright colors and prints. When choosing a street style, these colors will be able to compliment all the colored outfits associated with street style.
4. Official Outfits
Having a well-tailored suit and matching it with a pair of sunglasses tends to be cool and sophisticated. However, not all sunglasses are best suited for professional settings associated with suits.
If you are still unsure about the type of frame you need, you can choose square frames that will always look good with suits. This combination works well for daily wear, especially when they are colorless to avoid distracting from the suit of your choice.
In addition, oversized square black shades work well with a skinny tie, thanks to the contrast it creates. If you are hoping to lighten a dark suit, a pair of square metal sunglasses with blue lenses will pair well with a light blue shirt and pocket square.
5. Summer dresses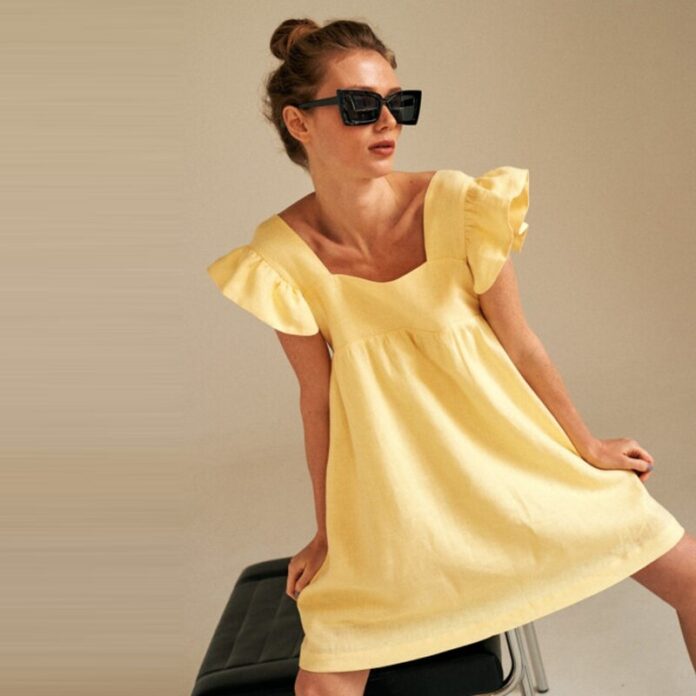 With summer approaching, you can finally bring out those brightly colored and unique print dresses. And with the bright sun and ultraviolet rays, getting the right style of sunglasses is vital in protecting your eyes from damage.
As a result, you may need to get the right type of eyewear that will be functional and offer a stylish look. And the best type of frames for sundresses are square-shaped as they complement the flowy texture of the dresses.
Square frames also enhance the style of dresses with floral prints and bodycon. In addition, this type of frame serves as a vital accessory when one is wearing an off-shoulder sundress.
6. Winter Outfits
Even in the winter, ultra-violet rays can still reach the earth making sunglasses vital every time you go out. And due to the cold, getting a square frame of sunglass will help block the cold from reaching your eyes.
As a result, consider getting larger square-shaped glasses for your winter outfits. You can play around with different prints by matching printed frames with your scarf or pair of gloves. In addition, you may opt for clear lenses as the brightness of sunlight may not be as bad during winter.
7. Checked And Patterned Outfits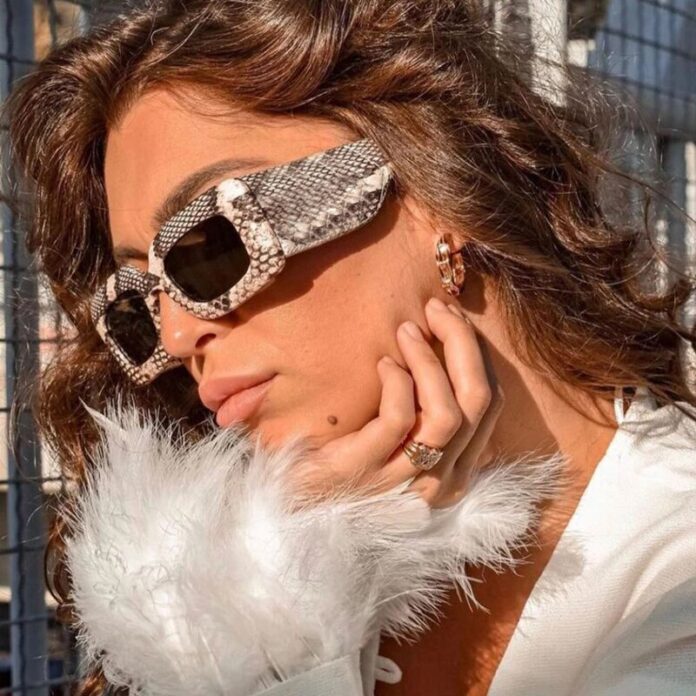 Printed and checked outfits offer a fun twist to everyday outfits, and not all people can pull it off. And if you want to take it a notch higher, consider pairing it with squared sunglasses that pull together and create a concrete look.
When matching your checked or patterned square frames with your outfits, you'll be able to maintain a consistent look while still complementing your style.
Bottom Line
You may consider different factors when choosing sunglasses—including different frames, sizes, designs, colors, and prints. In addition, there are additional factors to consider, including how well the frame of your eyewear matches your outfits.
As a result, when choosing square frames for your outfit, ensure that it doesn't clash with the overall look. If you aren't good with color coordination, consider going for neutral colors, including black, white, grey, clear, and metal.
In addition, keep the type of outfit and size of your square-shaped frame in mind to avoid overwhelming the style. For instance, opt for smaller-sized frames for an official look and a larger-sized one for summer dresses.