There's nothing worse than carefully applying your makeup only to look in the mirror moments or a few hours later to discover that your eyeliner has smudged. It makes you appear sloppy and disheveled, which is especially a problem if you're at work or trying to impress people.
Luckily, there are several tricks that you can use to prevent this from happening. We've compiled some of our favorite tips from makeup artists in this article, so let's dive in.
Find the Right Eyeliner for Your Skin Type
Just as you need to use the right type of lotion, foundation, and moisturizer, you need to buy eyeliner that works for your skin type as well. This is especially true if you have oily skin, which can make smudging worse.
Another option? Find a good waterproof eyeliner that works for you. They smudge a lot less if you're prone to sweating or have watery eyes. The only downside is they can be harder to remove at the end of the day.
Wash Your Face First
Before you apply any makeup primer or makeup, you should always wash your face. If you shower in the morning, no problem, but if you prefer night showers, don't skip this step.
The reason is that overnight, excess oils build up on your skin, making it slick. This means that your eyeliner (and all of your makeup) will be more likely to run. What's more, you're more likely to see blemishes on your skin if you start layering makeup on top of all that oil.
Pat your face dry, and then allow it to completely air dry before applying eyeliner or other makeup.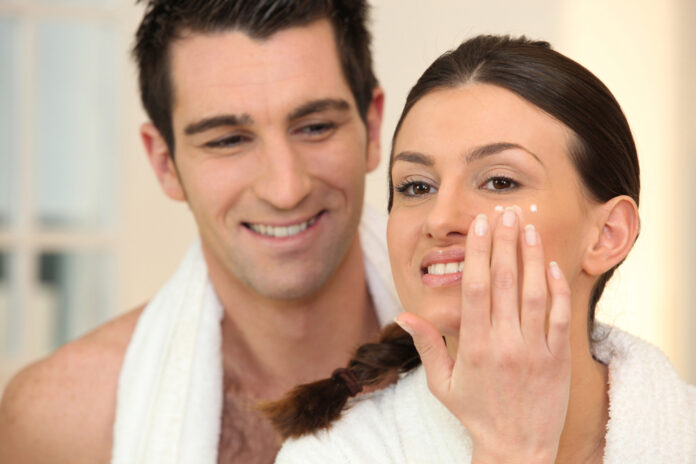 Apply Your Eye Cream at Night
Many eye creams, especially anti-aging formulas, have a lot of oil and extra moisturizer built into them. This is great for your skin, but not for your makeup. Heavier lotions and creams make a terrible base. For that reason, apply them at night and let them work their magic while you sleep.
Ask your esthetician or makeup consultant about a good face lotion for daytime. It should be water-based and light, and ideal for your particular skin type.
Use a Good Primer
If you're not using a makeup primer, you're doing it wrong. Primer helps all of your makeup stay flawless through long days of work or fun. Many primers also protect the delicate skin on your face from your makeup and other elements.
When you put it on, be sure to apply gently to your eyelids as well. You may want to use a cotton swab to softly apply a thin layer. Allow it to dry completely, and you'll have an ideal, even base for your makeup that can help prevent your eyeliner from smudging.
Curl Your Eyelashes First
This is one of the biggest mistakes that even seasoned makeup-wearers make. Eyelash curlers often get very close to where your eyeliner is applied and can easily smudge it. It's such a pain to have to remove it and start all over, especially if you're in a hurry to get out the door.
Solve that problem with a simple solution: curl your eyelashes, then apply eyeliner. Apply your mascara afterward as well, and if you wear fake lashes, you should put those on before the eyeliner.
Pay Attention to the Shape of Your Eyes
Sometimes it might not be something that you're doing that is causing your eyeliner to smudge, but the shape of your eyes themselves. If you have hooded eyes and you're seeing your eyeliner smudge early in the day, there's a good chance that part of your lid is rubbing against the eyeliner, causing this to happen.
If this is you, be sure to use a strong primer and waterproof eyeliner. You'll also need to seal or set your eyeliner (see below), and you may even want to create a buffer using neutral eyeshadow.
In addition, everyone should avoid applying eyeliner to the inner lids or the waterline of your eyes. The proximity to moisture means you'll have a greater likelihood of running.
Top Your Eyeliner with Eyeshadow
This is one of the simplest tricks that many of us already do to prevent eyeliner from smudging. Always apply your eyeshadow on top of your eyeliner. This layer of powder – however thin – provides protection for the liner underneath.
As an aside, it also looks better to have the color on top of the eyeliner. If you don't wear eyeshadow, never fear. You can use a sealant or setting spray instead (see below), or for added smudge-proofing, try using an eyeshadow that matches the tone of the skin around your eyes.
Use a Sealant or Setting Spray
Just as you need to use a primer, you should use another product to help set your makeup in place. With setting spray, you simply spritz it onto your skin after you've applied all of your makeup. Allow it to air dry completely. You will notice a difference in the appearance of your makeup if you haven't used it before. Make sure some of the spray gets on your eyelids.
If you're still having trouble with keeping your eyeliner in place, you can try a sealant. Sealants are similar to setting sprays, except you often apply them with a brush or cotton ball to specific areas rather than spraying your whole face. This makes them great for problem areas such as eyelids, which may be more prone to smudging, with or without setting spray.
In a pinch? You can also use hairspray to set your makeup. Be careful not to get any in your eyes and try not to breathe it in. It isn't the best for your skin, since it can clog your pores, but if you're desperate it will work (just don't make it a habit).
Find What Works for You
You are the ultimate expert on your own body, skin, and face. That means that it's up to you to experiment with these methods to see which one or which combination works best to prevent your eyeliner from smudging. That way, you can look fresh and polished all day and even all night, without having to reapply or fix your eyeliner.