Finally; your wedding day is approaching! There are so many things you must be engrossed with right now from planning the wedding theme, to finalizing the guest list and menu, choosing your wedding cake, dresses, wedding favours and so much more!
Most of us strive to have our wedding stand out from the rest and reflect us the best. So many of us want our wedding to become the talk of the town. So many of us desire to see our guests return home and talk about how amusing and stunning the wedding was! If you are one of these; here is a tip for you – Focus on keeping your guests engaged! For, this is what will make your big day the talk of the town.
Weddings usually start out great but as time passes and the wedding ceremony begins where only the bride and groom are involved, the guests might start getting bored and lose the zest as there is limited interaction. This is why you need to ensure to keep them in the loop and keep them engaged so they never have a dull moment and your wedding is memorable not only to you but also to your invitees.
There are several ways to do so; you can install a photo booth, set up immersive games, food stalls, and most importantly-Have WEDDING GUEST BOOKS!
Wedding guest books have been around for quite a while as they serve as a great souvenir of your special day! Traditionally what was limited to signatures of guests and well wishes have now evolved to include vacation ideas, tips to manage disagreements through the marriage and so on. With changes in what wedding guest books consist of; the wedding gift books concept as a whole has transformed. Unique ideas are coming up as the days go by and people are making the most of them by bringing out their creative sides.
Here we have compiled a few of our favourites! We hope that by the end of this article, you will find an idea that suits your wedding and personality.
1. Quilts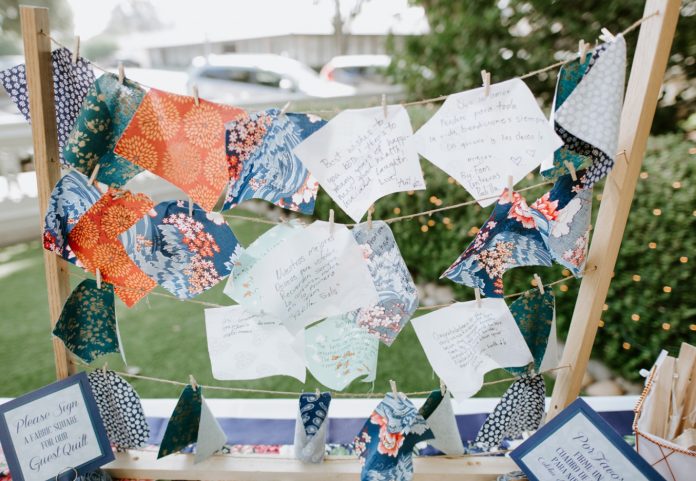 Quilts for generations have symbolised connections and family values. The warmth of the quilt when combined with heart-warming messages from your invitees is just the guestbook that you need. Additionally; quilts can be preserved for aeons which let you live with the beautiful messages for a lifetime! They can be a fond memory of you and your partner's love that can be experienced by generations to come! Provide your guests with small squares of fabric and ask them to write a short message and sign it using markers. You can later sew these pieces together to have your very own Quilt guest book! A great idea, isn't it?
2. Wooden hearts or corks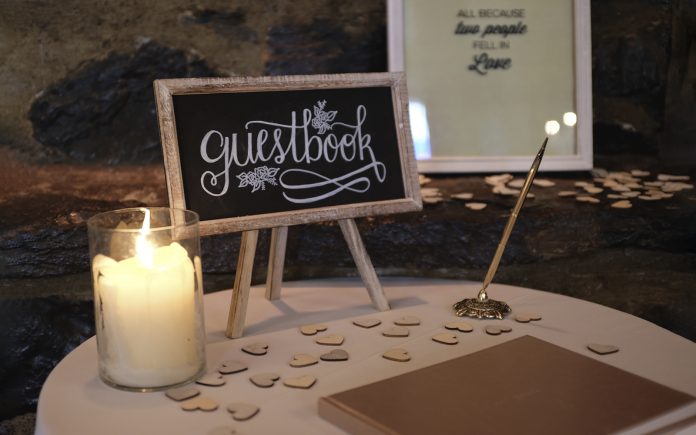 If you adore miniature things; you can choose wooden hearts or corks and ask your guests to write their messages on them! These can be really adoring tokens which can then be put together in a frame and hung at your residence! The frame will keep you reminded of the beautiful day from time to time and the messages on them will always make you smile! They will make the best centrepieces in your living room that are sure to catch every eye.
3. Pick up the phone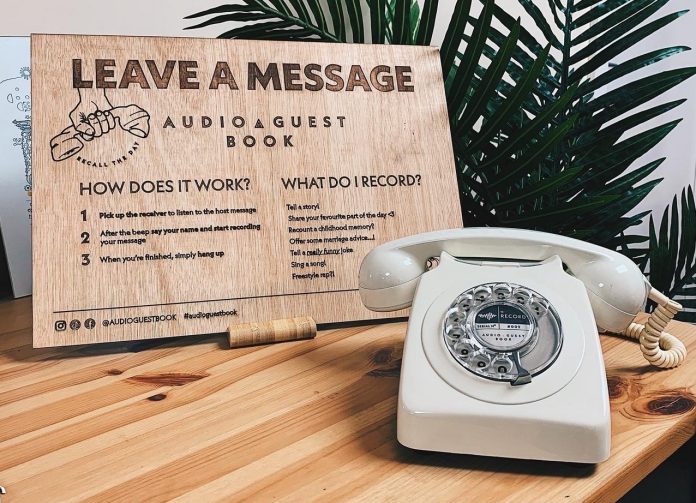 Writing messages though a classic, is quite common. Go beyond the normal and install a telephone guest book! These fancy vintage telephones can record your guests' wishes in audio format! With handwritten guestbook practices, your guests might not be able to convey everything they feel. Audio messages allow them to do so! Listening to these after your wedding gets even more amusing since the sweet messages are now backed by the voice of your loved ones! Ideas like these make a cherished memory, which always remains fresh in everybody's mind.
4. Wedding video guest book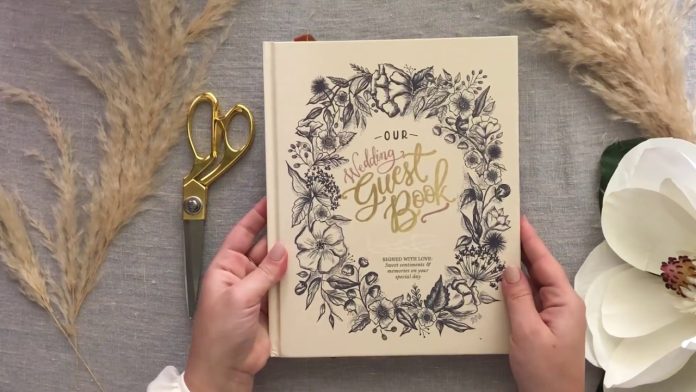 If you were stunned by the idea of a telephone recorder; this idea might leave your mind blown! Ask your guests to film a video of themselves individually or as a family and compile all the videos to have a wedding video guestbook using celebrate.buzz! Messages with voices and faces can really stir up your joy and emotions. This video can be shared amongst the guests so everyone has a copy of the fun-filled day!
What might concern you is the tedious task of collecting videos of all the guests and putting them together. Fret not; there are a number of online tools available today that have been developed to simplify the task for you. All you have to do is design signage with a QR code and set it up all over your wedding venue! As your guests come in; all they have to do is scan the QR code, film themselves and upload their video! They don't have to wait in line for the video booth or log in to websites! Since it will be effortless; all your guests will certainly participate!
In this way, video guestbooks can make your special day even more special and fun-filled; where not just the couple-to-be but all the guests are also fully involved and enjoying.
5. Pinata guestbook!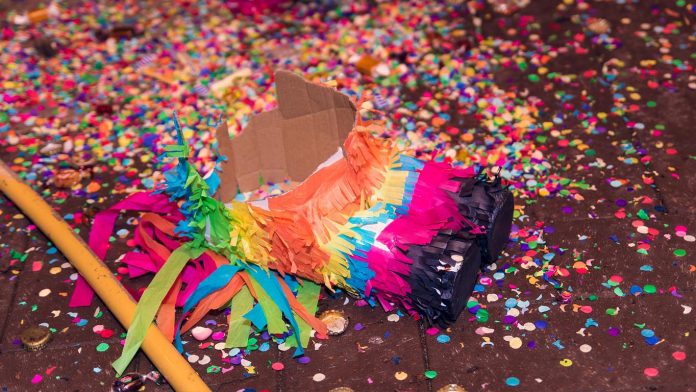 Pinatas are absolutely adorable and are loved widely! At your wedding, you can ask your guests to write notes for you and put them in an aesthetic and charming pinata! It can serve as a great display piece and you can always sit and read through the messages when you want! This unique and creative idea is a super hit these days and people are executing it in many different ways to make it unforgettable for everyone.
Apart from the above-mentioned, there are so many other interesting ideas that you can incorporate into your wedding. And, when it comes to guest book designs; there are no limitations, choose any theme, choose any item! Guest books are a tangible memory of your special day so, make sure you put in your best effort to make them exceptional!