We all have pieces of clothes we wear at some formal events. However, it is safe to presume that a majority of clothes we use every day are casual. When you're not attending a black-tie event—or another such event with a monotone dress code—why not embrace the floral print? Without any doubt, this is always an interesting design, that will leave a great first impression on people you meet every day.
A beautiful spring or summertime look, floral print dresses are that perfect combination of colourful, feminine, and fun. For all of these reasons, they are definitely one of the most widespread design details out there. If you're wearing a floral print dress, chances are you're enjoying a day out or knocking back a French martini at a cocktail party. Floral frocks bring all the fun of graphic fandom tees and translate that vibe into something more formal and feminine.
Flowery factors to think about
Of course, not all florals are made equal. Flowers will bloom in different ways depending upon the garden in which they're planted. There are factors to consider when choosing a floral print dress, such as length and colour. Not to mention that different types of flowers have different meanings. Sure, the majority of women out there will not consider this aspect if they like what they see. However, it is important to consider something like this.
For instance, red roses will always symbolize love and affection, while white roses will symbolize class and style. That's why you need to consider what flowers you will have on your costumes. Sometimes, making this decision will not be nearly as easy as it looks at first sight.
Besides that, it is crucial to consider other factors. Here's how to find your perfect floral frock and how to wear it to perfection.
Length
When it comes to dress's length, its importance will vary from woman to woman. If you're short, for example, a short dress will accentuate your legs to make you appear taller. If you're a taller woman, however, the length will be a secondary concern. If you've got the height, the rest should follow, regardless of the type of clothing, you're wearing.
The only exception to this can be short ones, which can sometimes fall a little short—literally—despite your stunning long legs. If a shorter dress is not sitting right on you, wear something more flowy and comfortable, occasion permitting. Ultimately, the only real factors you need to take into consideration are your needs and preferences.
Of course, if you are dressing for a wedding or cocktail party, you'll want to ditch the shorter dress for something longer, anyway. That will add a much-needed touch of style to the mix, right? If you're just enjoying a day out, however, rock that mini—by all means!
View this post on Instagram
Dress colour
The perfect dress colour will depend on two things: a) the colour of the floral print, and b) the statement you want to make. Want to stand out? Then use contrast to your advantage. However, it is important not to overdo it. When something like this happens, the line between good and bad taste can be rather slim, and you certainly do not want to represent bad taste, don't you?
Bold colours such as red or hot pink will pop against a white or yellow background. If you'd prefer to blend in, however, then choose a dress with similar shading to its print. Light blue flowers on a navy background, for example, would be a case study in understated elegance. There are numerous levels of style, and it all depends on your decision to stand out from the crowd or to blend it with your surroundings.
Overall, just go with your gut instinct. What are your top preferences? If you're a fan of bigger, bolder colours, you could light up a room with a bright autumn palette. If you'd prefer to blend in a little, you can still look gorgeous as you tone your ensemble down with nude or neutral shades.
Go with your faves and your gut on this one. We believe every person has their own style, that just needs to blend in with the standards imposed by the fashion industry. Many people make the mistake of believing that these standards can make them look like everyone else. The truth is completely different.
Our favourite floral print dresses
Now that you're well-versed in floral print theory, you're likely champing at the bit for some examples. These can provide a crucial insight into what can be expected by taking this style into consideration. If you're after some recommendations, here are our top picks—fresh from the fashion garden!
The Melina Long Sleeve Cut Out Dress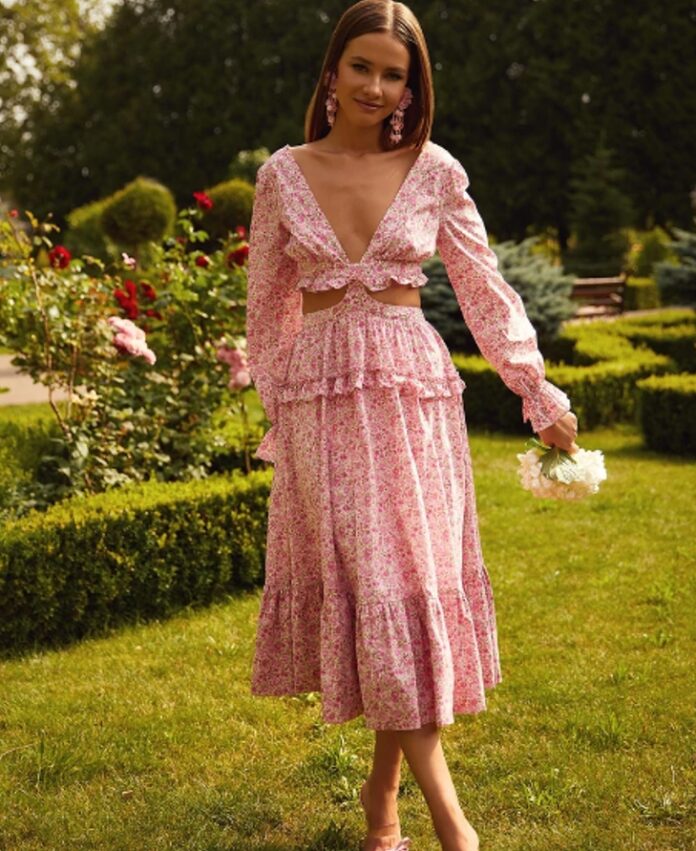 How can a dress be so sexy and yet so subtle at the same time? This dress provides full coverage—except for where it counts. It is clear that this line between openness and subtlety can spark an interest in the eye of observers. There are many ways you can achieve this balance, but we are sure that floral costumes can do it more effectively than a majority of other combinations out there.
Its ruffles, long sleeves, and softer prints speak to modesty, but the waist and bust are those sharp winks you spot in the corner of your eye. Lengthened and ruffled to perfection, the Melina Long Sleeve Cut Out Dress is innocence meets allure. Try it on and see how it fits you. We do not have any doubt you'll find this aspect rather stylish and interesting at the same time.
The Lyna Blue Print A-Line Dress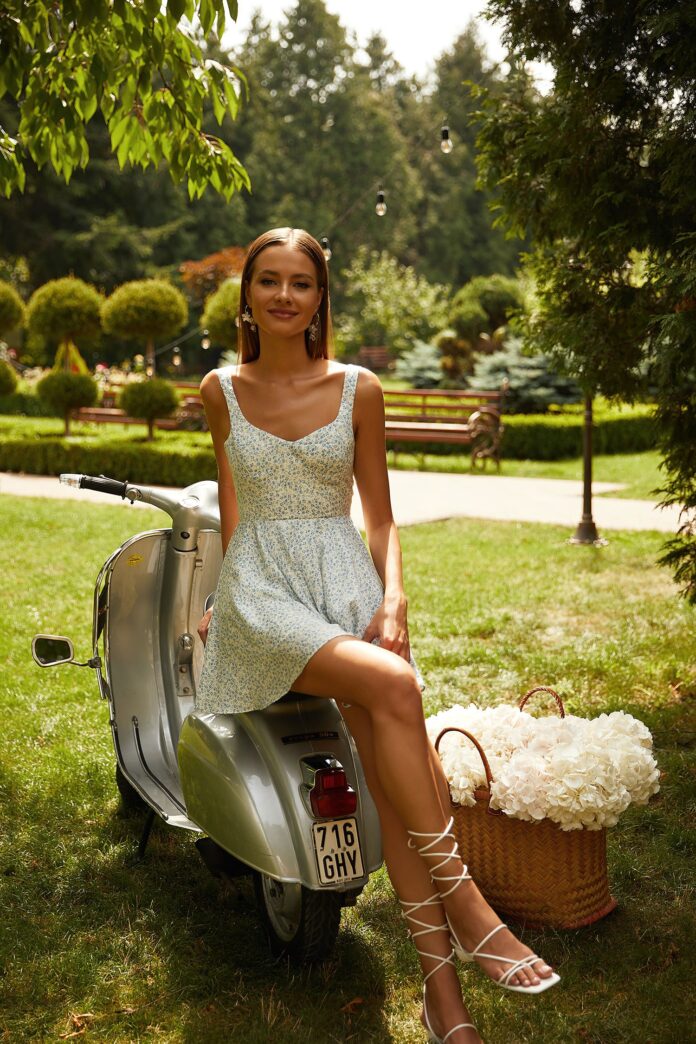 How could we not fall in love with this elegant little mini? Basically, it has all that's needed for a woman to look her best, without investing too much time into it. The Lyna Blue Print A-Line Dress is a petite little number that flares at the waist and loves your figure, thanks to its A-line cut. If you're after something soft and understated, then you and Lyna might just get along.
She is adorned with a dark blue floral print reminiscent of a Blue Willow teacup. Throw her on for a fun day out or casual brunch with the girls. That doesn't mean that you cannot wear it at some formal events, that do not have a strict clothing code. So, you will see that there are a lot of places where you can go with this style, without fearing that you'll fit with all the other guests.
The Mailys Dress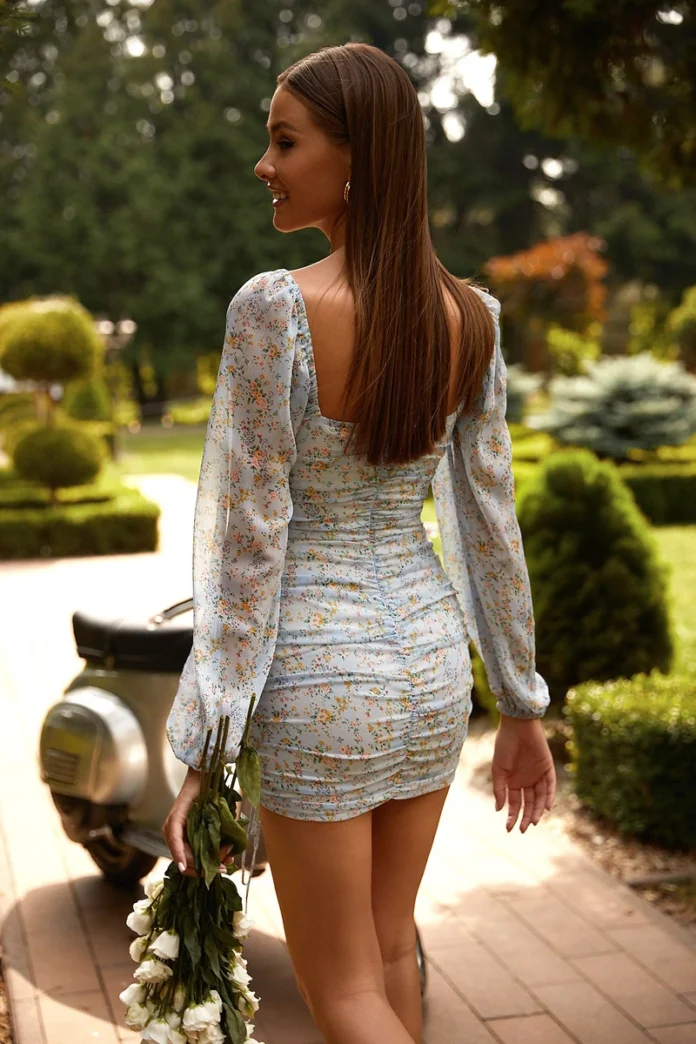 Our final pick from the garden is the beautiful Mailys Dress. This one is an interesting contradiction because it's a teeny-weeny, figure-hugging mini clothing with the longest flowy sleeves. Somehow, though, these make for a dynamite combination.
Adjust the Mailys Dress's length however you see fit and pair it with a yellow clutch if you want to make it 'pop'. Sometimes, florals can add a dash of understated poise to a rather confident cut. The longer sleeves make this ideal for those transitional seasons, too.
Last Thoughts
Finding what to wear doesn't have to be as stressful if you are prepared for a majority of situations. Here, you can take a look at a couple of styles, that include floral design, which you can wear for practically every sort of event out there. Furthermore, they will easily blend in with all other accessories you wear. We do not doubt you will find all of them interesting.