As summer begins to wind down in the Southern Hemisphere, it's not uncommon to complete your outfit with a jacket to ward off the emerging cold. While Autumn can still be deceptively warm, winter will well and truly be here before we know it.
If your favourite jacket is looking a little worse for wear, now is the time to begin searching for your new investment piece. When it comes to selecting the ideal jacket, however, it's not always as simple as may seem.
With several amazing styles to choose from as well as a variety of bold silhouettes and colours to consider, it is important to take your time before reaching for your newest wardrobe addition.
To help you on your way, we have curated the best selection of jackets and coats for Autumn 2023.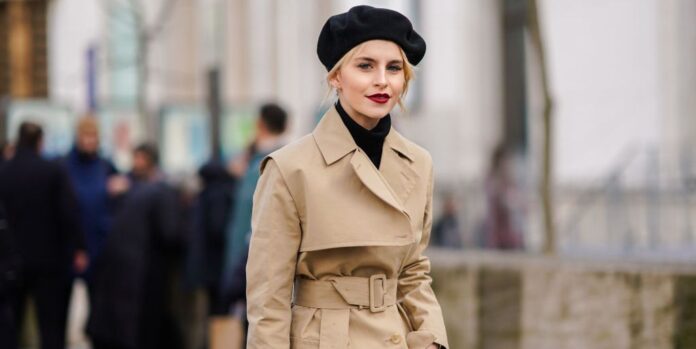 Top 5 Autumn Jackets & Coats To Consider
There is no right or wrong when it comes to which jacket you should choose for your Autumn or Winter wardrobe. Ultimately it comes down to personal taste and a consideration of where you'll wear the jacket and how well you'd like it to adapt to your needs.
We recommend thinking about when and where you intend to wear your jacket the most and what colours you primarily have in your wardrobe. This will help you select an option that is the most versatile, offers the most value over time, and will be an item that you will reach for again and again.
Let's look at 5 of our favourite styles that should be on your list to check out this Autumn.
1. The Tailored Jacket
A tailored long-line jacket, such as this Dover Jacket is the ideal addition to your Autumn wardrobe. Featuring a crisp, clean cut with minimal detailing, this jacket is incredibly versatile and can be worn with jeans and boots or to an important meeting with ease.
Offering a degree of stretch for comfort, this collared jacket easily accommodates layering pieces for additional warmth while also offering functional, statement patch pockets.
Chic, understated and timeless, this jacket will become a firm favourite in your wardrobe for many years to come and is perfect for those cool transeasonal occasions too.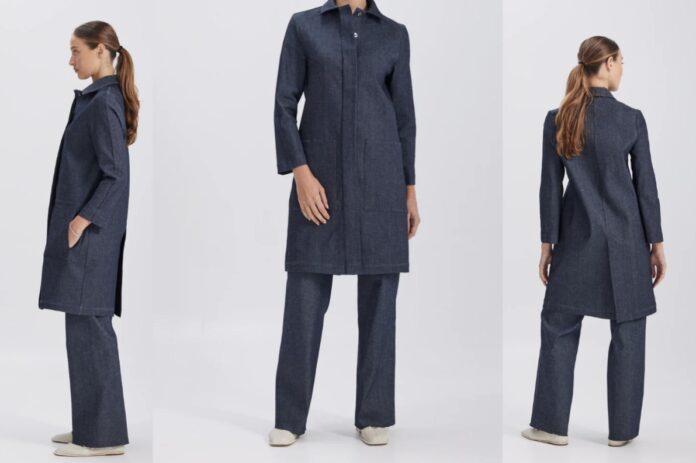 2. The Playful Puffer Jacket
Not necessarily for everyone, plush puffer jackets, such as those showcased in Prada's most recent winter collection offer exceptional warmth with a little bit of fun thrown in.
Akin to wearing your thickest duvet out and about, puffer jackets can be styled up or down but are not as versatile as some other options simply due to their bulk and silhouette.
This style is perfect for anyone seeking to feel fabulous while doing daily tasks such as walking the dog or for more casual occasions such as catching up with friends for coffee.
Available in classic black and white or go bold with bright reds, blues and turquoise. A puffer jacket is ideal for those seeking a chic, yet practical everyday casual option for their wardrobe.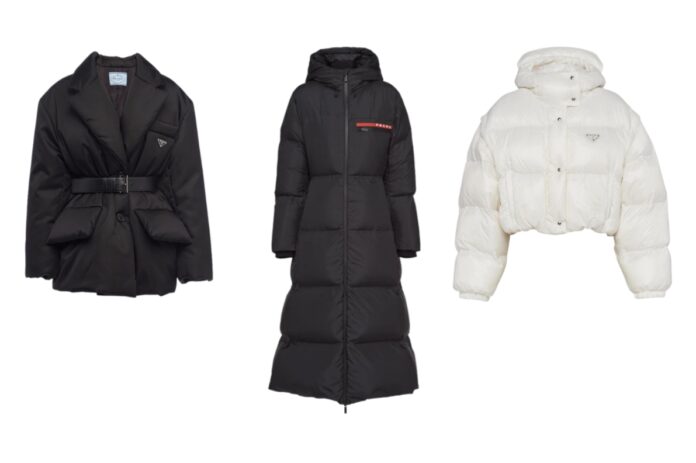 3. The Classic Trench
Just as easily worn in between seasons as during Autumn and Winter, the trench coat is something every woman should have in their wardrobe. It is as much a staple as the ever-popular denim jacket.
Sleek long lines with crisp tailoring have led to the trench becoming a perennial favourite that never goes out of style and has been seen on runways and worn by celebrities for decades.
Typically crafted from heavy fabrics such as suedes and thick cotton and primarily in neutral tones, this take on the trench delivers a fashion-forward shift using breathable linen in a chic, eye-catching vertical blue and white pinstripe on a neutral background.
Enjoy a wide lapel collar with two front feature pockets and tie-waist closure for the ultimate in effortless styling.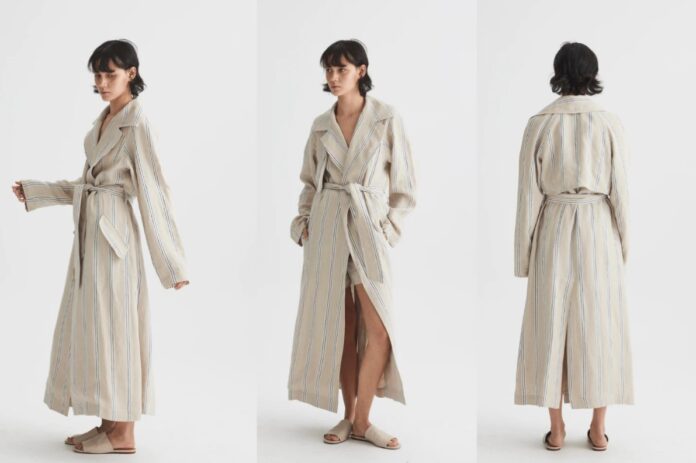 4. The Statement Piece
If warmth and practicality aren't necessarily part of your decision-making process when selecting a designer Autumn jacket, then going for a bold statement piece is for you.
Sleek satins, glossy leathers, breathtaking bright colours and a fresh take on tailoring are all things you can expect to find in a statement jacket.
Fabulous examples of statement Autumn and Winter jackets include Alexander McQueen's cropped biker jacket in sunset orange or LAPOINTE's ostrich feather double-face satin blazer.
Sure these styles and fabrics may not be as versatile as some other options, but fashion is of course meant to be fun and to take chances.
The only downside, or perhaps upside, is that you're going to need to have additional options in your collection for those times when these statement items won't suit the occasion. Why shop for one fabulous Autumn or Winter coat when you can shop for two?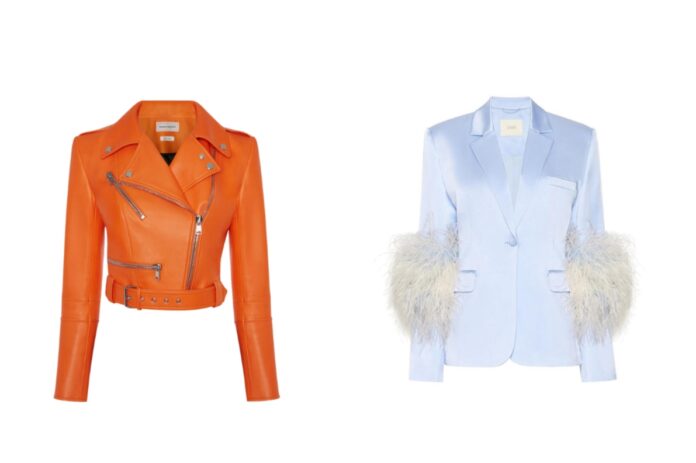 5. The Cosy Comforter
There's something about a tailored, long-line jacket made out of lush wool, cashmere or other rich noble fibres that have made them a fashionable favourite for generations. When expertly tailored and quality materials are used, these coats are both incredibly warm and practical without compromising on style.
Opting for durable natural fibres is also the key to eschewing fast fashion – something we at White Story continually strive for. These are the kind of jackets that tend to become heirloom items, passed between generations, as they last the test of time and are forever classic and timeless.
We recommend opting for the classic tailoring offered by double-breasted button-ups or wrap styles such as those seen in Max Mara's collection. Opting for neutral tones or darker jewel tones in this style will give you the best longevity and versatility.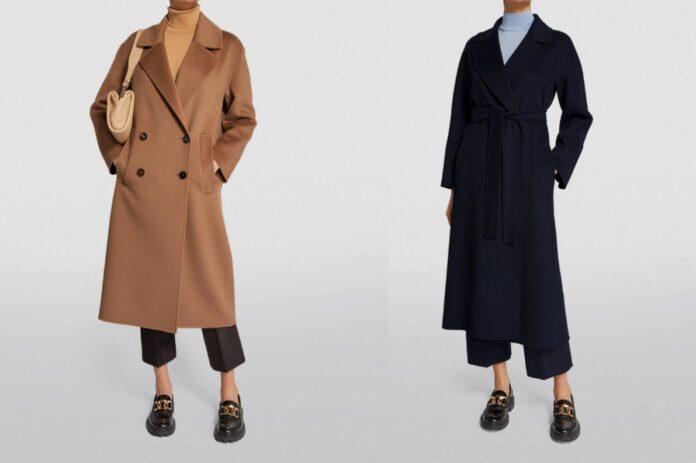 Take inspiration from the European landscape for your Autumn & Winter wardrobe. Focus on a muted yet lush colour palette that delivers the ultimate in versatility.