Natural freckles are a buzzing beauty trend on social media. They have officially made their name in the beauty world to glam up your look.
Even though you are not blessed with natural freckles, who says you can't fake them?
If you wish to create fake freckles that won't fade away after one wash, henna is the best option for you.
How to get natural freckles with henna?
Many beauty influencers have been trying various hacks to introduce freckles in their natural makeup look. Considering makeup items, the brow pencil is the most used product for creating faux freckles.
A new trend is revolving on social media about creating fake freckles with henna. If you are thinking about trying this trend, read along. We have explained everything you need to know about henna freckles.
What is the best henna for freckles?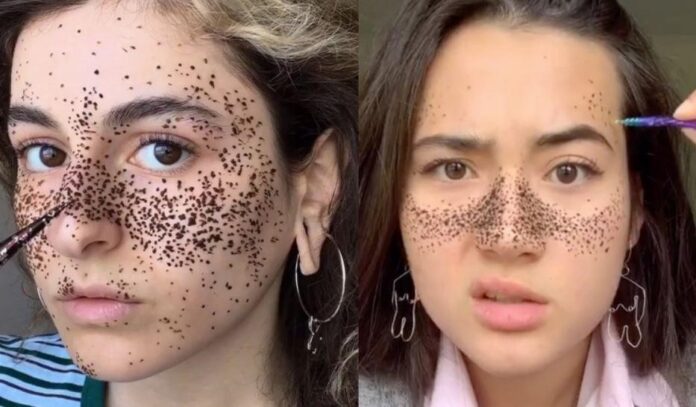 Before starting, the most important thing to keep in mind is the type of henna to use.
Make sure to always buy natural or organic henna powder and make a homemade henna paste. No matter which brands you fancy, double-check for any chemicals or hidden artificial ingredients in the henna powder.
Primarily, black henna is known for containing unlisted dyes and chemicals that might induce Skin reactions. These are generally intended to be used only on hair, not on skin.
White henna is only meant to be used as a temporary tattoo that washes away the same day. It can't be used for faux freckles.
The only option left behind is the brown henna powder. And it is the perfect one! It Gives an amazing result that looks natural, that's why it is the most used product for creating faux freckles.
How to do henna freckles?
We highly recommend making your henna paste at home. Most of the henna cones and pastes available in the market are full of chemicals and additives that can irritate, or worst, damage your skin.
How to make a henna paste at home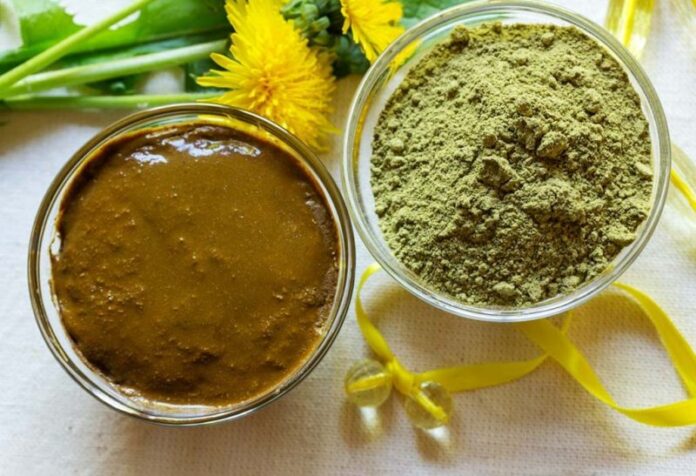 First of all, you need to find natural henna powder. There are numerous henna powders available in the market and most of them are organic. Carefully read the label for any additives before buying. Do not settle for anything less than the natural.
Pour the required amount of henna powder into a bowl. Gradually add water in small amounts and stir continuously to make a thick paste.
Remember, do not add too much water, or else the paste will become too thin to settle on the face. Some people also add a few drops of lemon juice to the paste. It is totally up to you whether you like to add it or not.
After making a smooth henna paste, take a neat plastic sheet and wrap up the paste in the form of a cone. The tinier the tip of the cone, the neater dots it will create.
Note: If you have extra sensitive skin, avoid using lemon juice in the paste as it can cause redness or irritation on the face. If you do, try a patch test on your hand before applying directly to your face.
Patch test the henna paste before using it on the face
Though natural henna dye like the one from thehennaguys.com, rarely poses any health threats, testing before applying is always a good option.
People with sensitive skin are more likely to experience any skin issues. However, non-sensitive individuals can also sometimes fall under the prey of adverse skin reactions.
Thus, it is wise to wait for a green signal. Before using the henna paste, apply a small patch on your hand and let it stay for about 30 minutes before rinsing it off. If you don't feel any irritation after two or three hours, you are good to use it on your face.
Creating faux freckles with henna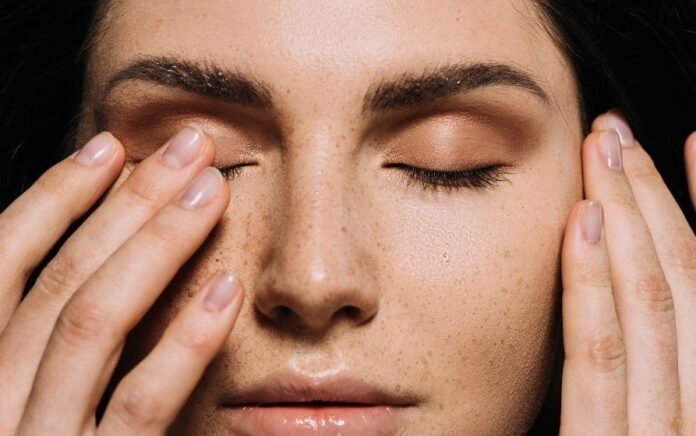 Henna cones are most commonly used to create freckles, as they are easier to handle and provide a neat finish. To get the best results, make your henna cone using the method shared above.
To apply freckles with a henna cone, follow the easy steps shared below to create your awesome new look.
First and foremost, deep cleanse your face with any good facewash or scrub you like.
Cleansing is an important step for the success of this method. When you thoroughly cleanse your face, it hushes away extra dirt, oil, or makeup residues.
When your natural skin cells are exposed, they take henna dye well and may also prevent any acne breakout.
As you are making your homemade henna cone, we advise wrapping it such that a tiny opening is formed. A large, irregular opening is riskier to handle. It will be more likely for extra-large, irregular dots to be created.
Make certain that your cone is sturdy and can resist pressure easily. Push gently from behind and let out the first, dried-out henna paste.
Apply henna dots

Source: allure.com
Now grab the henna cone in your hand and make small and neat dots on your face. Start from your nose, create dots to your cheeks, a few on the forehead, or any other area where you like them to be.
Do not create all dots of the same size. Put some random size dots too. It makes the freckles look more natural.
Let the henna dots dry for an hour or more.
It all depends upon how dark you want your freckles to be. If you wish to create darker freckles that stay for a longer time, let them sit for more hours. The longer they sit, the darker they get.
Now, you are very close to your goal.
Gradually remove the dried dots with your nails or the edge of a spoon. Don't remove them aggressively, all at once. Patience is the key.
Wash your face with regular water without soap.
Behold! Your faux freckles are ready to glam up your face.
Go out and take as many pictures as you want since these freckles won't last long!
How long do henna freckles last?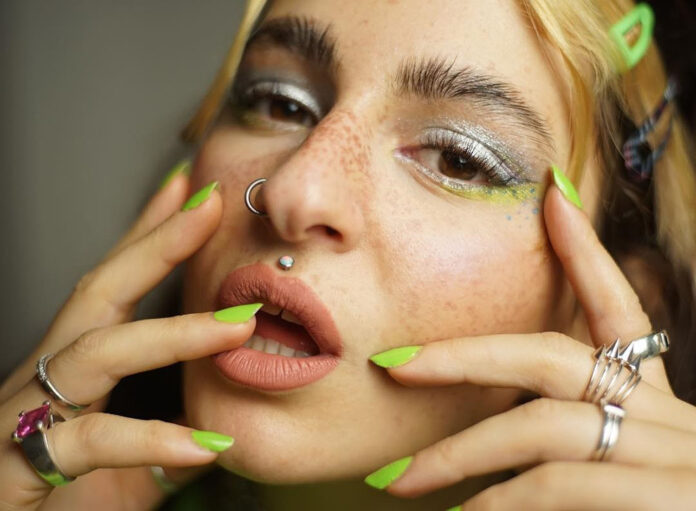 Fake henna freckles usually last for 3-4 days. To extend their longevity for a couple of days, moisturize them regularly with any organic oil of choice. We recommend using coconut oil or olive oil.
Avoid exfoliating or scrubbing your face to make them stay a little longer.
Safety first:
Make sure to use chemical-free, natural brown henna powder. Always read labels to buy the best product on the market.
Before starting, apply a small amount of henna on your hands or any other area. Leave it a few hours and look for any irritation or allergic reaction you might have with henna. If your skin remains irritation-free after a few hours, you are good to use it on your face.
If you are more prone to skin allergies, take medical advice before using henna on your skin.
Do not use a stored henna paste for more than two weeks.
If you feel irritation or a burning sensation on your face, quickly remove the henna dots from your face. See your dermatologist right away to avoid any complications.