While a lot of us wear old clothes as nightwear, there's something you need to know about actual nightwear. Yes, wearing proper clothes for your sleep is very important if you want a comfortable and cozy sleep. So here are few types of nightwear to wear at home during bed time:
1. Short nighty:
Short nighties are super trendy and famous among youth. This pretty short nightdress comes in different colors, fabric and prints as well. So yay! you have a wide variety of choices, pick wisely. These can make you look like a diva even in bed.
2. Satin baby doll: 
Another amazing fabric: Satin. And anything made of satin looks super luxurious. Make your special days even more special with satin baby doll. This fabric can really spice up your mood. That super silky and smooth feel can really make your partner fall in love again and again.
3. Nightgowns:
Another comfortable piece of clothing is a nightgown or nighty. These are loose, comfortable, and cozy nightwear which is famous among almost every woman. These are made from cozy fabrics like cotton, silk, nylon, or satin. These can be an ideal choice for your winters. Now in today's market ,you have wide varieties like full, half or 3/4th sleeves, so choose according to the season and sleep properly.
4. Top & Pyjama sets:
Pajamas and tops are another classic option from nightwear. These are super comfy, trendy, classy, and very functional. Crafted with different soft and smooth fabrics like cotton, silk, satin and other suitable materials, these top &pajama sets can make you sleep peacefully and comfortably.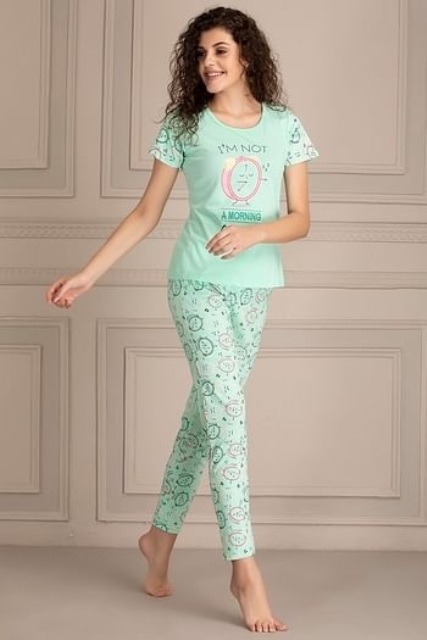 5. Sleep Tees:
Sleep tees are like loose-fitting long shirts. These are also called short nighties and a perfect choice for all young ladies! These sleep tees are very comfortable and are available in various colours and prints. So choose them according to your mood.
Here Are Few Tips To Choose The Right Nightwear:
While choosing the right nightwear, one of the most important factors you should consider is the fabric. Make sure that you are choosing one that feels good and comfortable. There are many types of fabrics available in the market but however, cotton is the most preferred one. Since this type of material will keep you comfortable and regulate body temperature during the night time.
Read Also –Always Choose Right Fabric for Women Nightwear Dress
Proper fit is very important as well. Avoid buying tight nightwear as a tight nightwear will make you uncomfortable and interfere with your sleeping. Wearing loose nightwear would help you to breathe and sleep well.
When buying online, please make sure that you are picking the one which suits your body type, don't buy what seems great, not all clothes suit you well. Most of the online stores offer size charts, so check yourself properly before you buy the best one for yourself.
So these are a few types of nightwear and some buying tips that you definitely need to consider. Although you will get a variety of brands to choose from, you can never go wrong when you purchase nightwear from Clovia. There are myriad styles available and you can choose them according to your comfort level and type. Have a good sleep and wake up refreshed the next day!