With the perfect styling choices, your little black dress is destined to leave a remarkable and lasting impression wherever you go, cementing its status as an iconic fashion piece that never fails to captivate.
The fancy black dress is an absolute classic that every woman should have in her wardrobe. Just take a look at how diverse black dresses are: https://itsmilla.com/collections/black-dresses.
In the Milla online store, you can find and buy fashionable and trendy dresses of different types; the shipping is quick, and the offer is impressive. Once you have that perfect little black dress, the question arises: what should you combine it with to create a stylish and captivating look?
Fear not, as we bring you a plethora of exciting ideas to elevate your black dress game. Whether you are dressing up for a glamorous evening event or going for a casual chic look, these suggestions will help you make a statement and turn heads wherever you go.
Elevate Your Little Black Dress Game ─ 12 Stylish Combinations to Turn Heads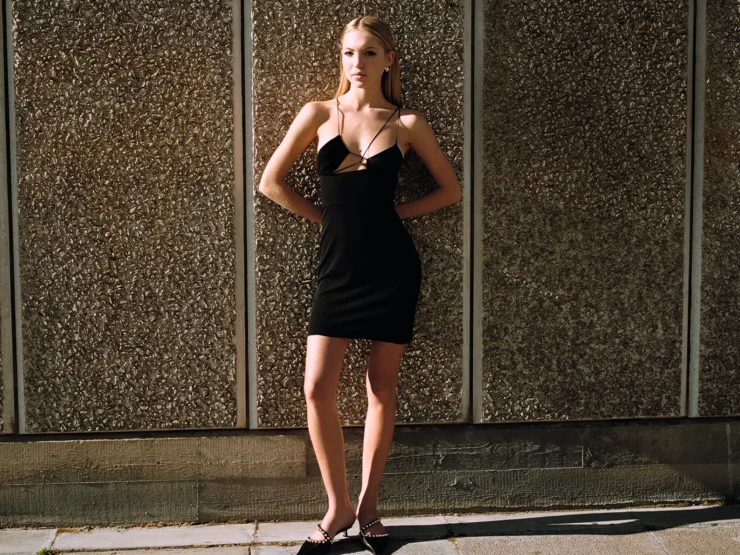 1. Statement Jewelry
To add a touch of glamour and elevate your little black dress, pair it with some statement jewelry. A chunky necklace or a pair of chandelier earrings can instantly transform your outfit.
Opt for bold colors like emerald green, ruby red, or sapphire blue to make a striking contrast against the black dress. Alternatively, you can choose metallic accessories like gold or silver for a more elegant and timeless look.
2. Colorful Shoes
Black dresses provide the perfect canvas to experiment with footwear. Add a pop of color to your outfit by pairing your little black dress with vibrant shoes. Red pumps, electric blue stilettos, or even neon sneakers can add a playful and unexpected element to your ensemble. Not only will this combination catch the eye, but it will also make you feel confident and fashion-forward.
3. Layering
When it comes to black dresses, layering is key to creating different looks for various occasions. During colder months, pair your dress with a tailored blazer or a leather jacket for a chic and edgy vibe.
For a more feminine touch, add a lightweight cardigan or a sheer kimono. Layering also allows you to experiment with different textures and patterns, such as a lace blouse or a patterned shirt underneath your dress.
4. Belts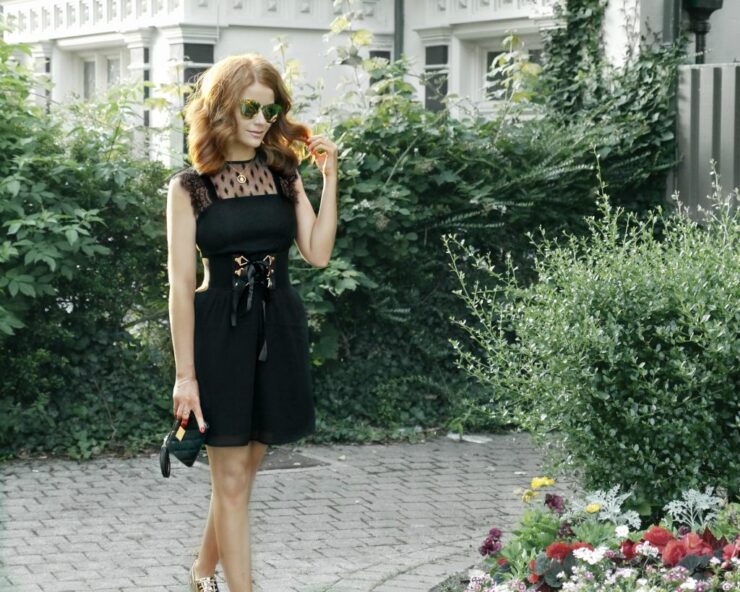 Accentuate your waist and add structure to your little black dress by cinching it with a stylish belt. A wide belt in a contrasting color can create an hourglass silhouette and add an element of sophistication.
Alternatively, opt for a thin metallic belt to add a touch of glamour and define your waistline. Experiment with different belt styles, such as braided, studded, or embellished, to personalize your look.
5. Scarves and Wraps
Incorporating scarves and wraps can be a versatile way to enhance your little black dress. During colder seasons, wrap a cozy, oversized scarf around your neck for both warmth and style.
A colorful or patterned wrap can be draped over your shoulders or tied around your waist to add an extra layer of visual interest. This accessory not only provides practicality but also allows you to experiment with different textures and prints.
6. Hats
For a touch of vintage elegance or a bohemian vibe, pair your little black dress with a hat. A wide-brimmed floppy hat instantly adds a glamorous and mysterious aura to your outfit. Alternatively, a fedora or a beret can create a more sophisticated and polished look. Choose a hat that complements your facial features and matches the overall style you want to achieve.
7. Accessorize with Flair
Enhancing your little black dress with a striking clutch or statement bag. A stylish clutch or a statement bag can effortlessly complete your little black dress ensemble. To make a statement, go for a bold and eye-catching design that grabs attention.
Alternatively, opt for a classic black or metallic option for a timeless appeal that never goes out of style. The right bag not only adds functionality but also serves as an accessory that ties the entire outfit together. Don't be afraid to experiment with different shapes, sizes, and textures to find the perfect match for your little black dress, elevating your look to a whole new level of sophistication.
8. Style and Warmth Combined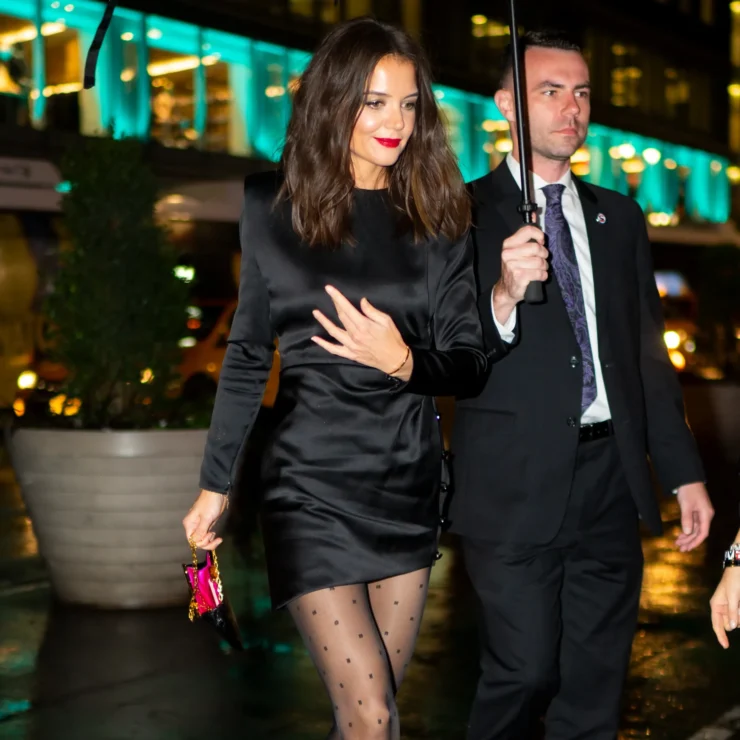 Elevating your little black dress with tights or stockings. Whether you're looking to brave the chilly weather or simply desire an extra layer of style, pairing your black dress with tights or stockings is a winning choice.
Explore a myriad of options, from sleek and polished opaque black tights that exude sophistication to playfully patterned tights that inject a touch of whimsy into your ensemble. For a more refined and elegant appearance, opt for sheer stockings that lend an air of sophistication.
Besides providing warmth, this accessory opens the door to experimenting with various textures and patterns, allowing you to showcase your personal style and elevate your little black dress to new fashion heights.
9. Leather Jacket
For an edgy and rebellious vibe, layer your little black dress with a leather jacket. A black leather jacket adds a touch of coolness and brings a whole new dimension to your outfit. It effortlessly combines femininity with a hint of toughness, creating a unique and captivating look.
Whether you opt for a cropped biker jacket or a longer trench coat style, this combination is sure to make a statement.
10. Blouse or Shirt
Transform your little black dress into a skirt by layering a blouse or a shirt over it. This technique instantly creates a chic and sophisticated look. Choose a blouse or shirt in a contrasting color or pattern to add visual interest and make your outfit stand out.
Tuck it in or leave it untucked, depending on the desired style and occasion. This combination allows you to mix and match different tops, creating endless possibilities.
11. Statement Outerwear
To make a grand entrance or to stay warm during colder months, pair your little black dress with a statement outerwear piece. A long, elegant coat in a bold color or a faux fur jacket can instantly elevate your look and make a lasting impression. Opt for textures and patterns that complement your dress while adding an extra layer of style and sophistication.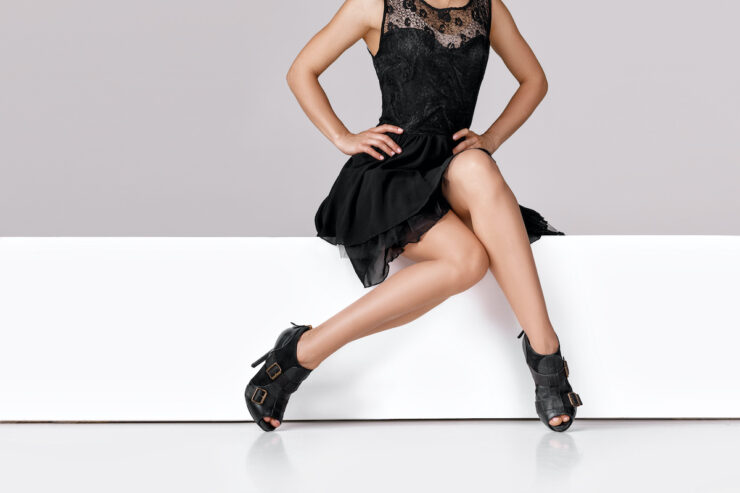 12. Ankle Boots or Heels
When it comes to footwear, ankle boots or heels are the perfect complement to a little black dress. Ankle boots, whether flat or heeled, add a touch of edge and can be worn for both casual and dressier occasions.
On the other hand, a pair of classic black heels elongate your legs and adds a sense of elegance and grace. Experiment with different heel heights and styles to find the perfect match for your dress and personal style.
The little black dress stands as a timeless and indispensable piece in every woman's wardrobe, offering endless possibilities for styling that can effortlessly suit any occasion. This versatile garment becomes a statement of fashion when paired with the right accessories and clothing items, allowing you to create a myriad of stylish and captivating looks.
From bold and eye-catching statement jewelry to vibrant and colorful shoes, the little black dress embraces an array of enhancements such as layering techniques, trendy belts, chic scarves, fashionable hats, chic clutch bags, complementing tights or stockings, edgy leather jackets, sophisticated blouses, eye-catching statement outerwear, and chic ankle boots. The beauty lies in your ability to unleash your creativity, embracing the art of experimentation with different combinations to let your unique personal style radiate.